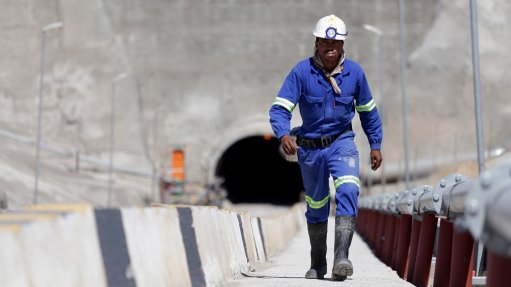 A miner ascends from the Ghaghoo decline shaft
London-listed Botswana Diamonds (BOD) reports that Okwa Diamonds, its joint venture (JV) with Vast Resources, has conditionally agreed to acquire 100% of the share capital in Gem Diamonds Botswana (GDB) for $4-million in cash and payable in two instalments.
The acquisition of GDB is conditional and dependent on relevant regulatory and competition authority approvals in Botswana and is expected to complete during the latter part of this year.
The primary asset of GDB, a wholly-owned subsidiary of Gem Diamonds, is the fully-permitted Ghaghoo diamond mine – a 10.8 ha kimberlite pipe in central Botswana, 300 km northwest of Gaborone – which is currently under care and maintenance.

BOD has an initial free carried interest of 10% in Okwa Diamonds for the first $15-million of expenditure by Okwa, which is being funded by Vast (including the acquisition cash consideration).
Thereafter, BOD will not be diluted below 2.5% of Okwa and BOD can also earn up to a further 20% interest in the JV through funding 20% of expenditure.
Under the terms of the JV with Vast, BOD will be the operator of the Ghaghoo mine until such time as an agreed management team is in place.
The kimberlite pipe at Ghaghoo has a reported South African Mineral Resource Committee-compliant indicated resource of 79.3-million tonnes at an average grade of 19.5 carats per hundred tonnes and diamond values of $242/ct.
The diamond assortment at Ghaghoo includes high-value fancy-coloured diamonds, such as orange and blue diamonds.
BOD MD James Campbell says that, working with JV partner Vast, BOD has completed thorough due diligence on Ghaghoo.
"We believe there are significant opportunities to improve Ghaghoo's operating and financial performance through both the application of new, and the optimisation of existing, technologies, along with a strongly recovering diamond market."
He adds that advanced underground mine development and the surface infrastructure already in place, means a return to production is potentially possible. The JV is targeting a return to nameplate capacity of 1.25-million tonnes a year.

BOD chairperson John Teeling says the JV enables BOD to acquire an interest in an advanced mining project at minimal initial cost.
"Ghaghoo is one of the largest available diamond resources, and is contiguous with our KX36 project which should potentially create synergies between operations."
He adds that Ghaghoo and KX36 are both located in the Central Kalahari, which is BOD's core area of focus in Botswana.
As at December 31, 2020, the gross assets of GDB were valued at $3.5-million and the loss attributable to GDB for the 12-month period ended December 31, 2020, was $3.3-million.
Gem will use the sale proceeds for general corporate purposes.
Gem CEO Clifford Elphick says the GDB sale is in line with the company's strategic objective to dispose of noncore assets. "Gem Diamonds remains focused on [enhancing] production and efficiency at the Letšeng mine in Lesotho."