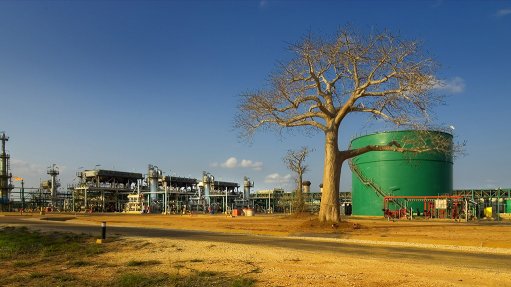 MOVEMENTS IN MOZAMBIQUE The drilling of an exploration well is expected soon in Mozambique, where Sasol has signed exploration and production concession contracts on two new blocks
Petrochemicals company Sasol's Upstream business unit, comprising Mining and Exploration & Production International (E&PI), contributed 20.3% to the group's earnings before interest, taxes, depreciation and amortisation (Ebitda) for the year ended June 30, 2019, according to Sasol's integrated report for the period, published last month.
This was a 2.6% increase in the upstream contribution to Ebitda from 2018, when the upstream business unit contributed 17.7%.
"Upstream makes a critical contribution to Sasol as a sustainable provider of coal and gas feedstocks to enable our South African operations to drive substantial value from our integrated businesses," according to Sasol's integrated report for the period, published last month.
Mining contributed 14% of normalised earnings before interest and tax (Ebit), down 10% to R4.8-billion compared with 2018, mainly owing to lower sales volumes in line with internal client demand.
E&PI, however, was up more than 100% compared with 2018, contributing R1.2-billion, or 3%, of normalised Ebit.
"Sasol E&PI has had a very good year, with our production increasing, specifically, in Mozambique. Production at our Canadian assets has also increased and the production at Etame, our field in Gabon, has met our target," Sasol E&PI senior VP Gilbert Yevi tells Mining Weekly.
Financially, E&PI experienced a substantial increase in profits at Sasol's Mozambique operations, while Etame met its financial target, on the back of higher gas and crude oil sales prices. However, earnings by the company's Canadian shale gas assets, from which Sasol plans to divest, were lower, owing to a R1.9-billion impairment, as a result of the Canadian gas price, says Yevi.
He highlights that E&PI's improved efficiency and focus on delivery over the past year also contributed to the division's results, and expects its contribution to normalised Ebit in 2020 to be on par with, if not better than, this year.
"We always aim to beat inflation, which is 6%, at minimum. We are at the mercy of the oil price, but the cost of goods and services also influence our earnings."
Notably, the significant impending developments in the offshore Rovuma gas basin, in Mozambique, is expected to result in greater competition for labour and services.
Yevi admits there could be headwinds, but believes that E&PI has taken the appropriate measures to mitigate their impact.
Exploration Developments
"We need to find gas to put in the pipeline for our midstream operation for supply to third parties in South Africa and to contribute to the country's agenda on the substitution of coal over time," says Yevi.
Subsequently, Sasol has signed exploration and production concession contracts on two new blocks in Mozambique – T5-C, which is adjacent to its existing producing licence, and 5-A, which is offshore.
Exploration work is progressing on these two blocks, with the drilling of an exploration well expected soon.
In Gabon, Sasol is drilling additional wells in the Etame Marin permit area.
Yevi says the first well drilled by the project operator, hydrocarbon exploration company Vaalco Energy, was successful, indicating between 1.5-million barrels and ten-million barrels of additional oil.
Two or three more wells are yet to be drilled, with Yevi expecting similar drilling results.
Sasol is also trying to address South Africa's gas supply challenges by developing gasfields in the country, where it has an exploration block off the coast of KwaZulu-Natal.
"There is a need to balance gas findings in the neighbourhood with those in our own back yard," emphasises Yevi, adding that the discovery by oil and gas company Total at its Brulpadda gasfield this year is a major catalyst for exploration activity in South Africa.
Going Forward
As the Southern African Development Community (SADC) is focused on emissions reduction and green energy, E&PI wants to contribute to the solution from a technological perspective and as a producer, says Yevi.
"Going forward, we will concentrate on finding gas in the SADC region and the growth of oil in West Africa. Those will be major contributors to our bottom line in this fiscal year."
Subsequently, Sasol intends to progressively grow its value-adding oil and gas portfolio in West Africa and Southern Africa by continuing to drive its position as the partner of choice of governments and national oil companies.
Yevi highlights that most African governments looking to undertake major oil and gas projects generally refer to Sasol.
However, to position Sasol for sustainable growth, E&PI will pursue disciplined growth.
"The exploration game is high risk, high reward. You need to limit the amount of risk you take. You don't just drill at a 3 000 m water depth when you could be limiting your risk to shallow offshore or onshore targets," states Yevi.
He also highlights limiting capital exposure and further strain on the company's balance sheet through partnerships or by buying existing or producing assets.
Further, Sasol's long-term objective is to accelerate its exploration and production growth by 2030.
In response, E&PI has assembled a "very strong" exploration and production team, which, Yevi says, includes people who have 30 or more years of experience.
"With this level of experience, using our technical skills, we will enter into partnerships to improve and grow our portfolio to meet the 2030 objective."
Sasol is committed to environmentally responsible growth and intends to finalise its greenhouse-gas emission-reduction roadmap by November 2020. This focuses on reducing, transforming and shifting Sasol's portfolio by 2030 to reduce its emissions by at least 10% while continuing to generate revenue for its shareholders, concludes Yevi.