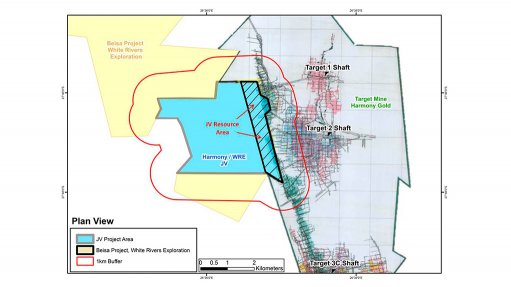 PROSPECTING White Rivers Exploration is in a joint venture with Harmony Gold to explore and develop the Beisa prospect
Obtaining the necessary statutory permitting approvals and licences to operate in a timely and cost-effective manner is a major challenge to mine development in South Africa, says multicommodity exploration company White Rivers Exploration (WRE) executive director Refilwe Monageng.
He says the challenges that mining exploration companies face can be solved through dialogue between government, labour and mining companies.
"We need to continuously have open dialogue so that the aims and goals of all stakeholders are clearly discussed, defined and achieved."
As WRE is not in production yet, ensuring that it has a motivated, well-trained and enthusiastic workforce presents an additional challenge, especially since the company intends to use "the latest and advanced mining techniques and technologies in the world", he adds.
Monageng tells Mining Weekly that the company is motivated to strive to enhance economic growth and sustainability in South Africa, adding that the company's portfolio of projects has large resources comprising gold, uranium, silver, coal, and potentially manganese and gas.
"If we can economically mine these resources using new technology and train our workforce to use this technology and equipment, we can take the mining industry in South Africa well into the twenty-first century," he says.
Priority Projects
WRE is currently focused on near-term cash flow development projects.
The company entered into a joint venture (JV) in July with oil and gas exploration and production company Molopo Energy to work on gas exploration near the Free State towns of Heilbron and Kroonstad.
This is in addition to the JV WRE entered into in September last year with gold miner Harmony Gold to explore and develop WRE's gold and uranium Beisa prospect, also in the Free State.
Monageng tells Mining Weekly that, to ensure that its project portfolio is continuously upgraded and increasing in value, WRE has quarterly reviews with its exploration geological consultants company Shango Solutions, where each tenement, making up 11 project areas, is critically analysed based on data and exploration results.
"If the tenement or combined project is determined to have limited prospectivity, then we usually decide to relinquish the tenement or project," he explains.
Monageng says, during this review process, when the company discovers that certain adjacent areas have potential to add value to its business, it makes an effort to obtain the required licence to start exploration.