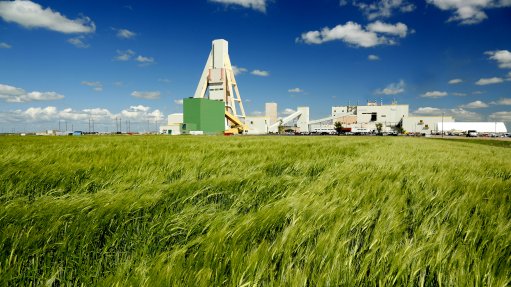 Nutrien's Allan operation
Canada-based fertiliser company Nutrien has raised its potash sales volume guidance for the year as it steps up its production capabilities owing to strong global demand amid supply uncertainties from Eastern Europe.
The TSX- and NYSE-listed firm said it would sell between 14.5-million and 15.1-million tonnes of potash in 2022, compared with the previous guidance of 13.7-million to 14.3-million tonnes.
The higher sales guidance reflects an earlier announcement that Nutrien would increase its production by one-million tonnes this year, with the majority of the additional volume to be produced in the second half of 2022.
"Nutrien is responding by safely increasing potash production and utilizing our global supply chain to provide customers with the crop inputs and services they need for this critical growing season," said interim president and CEO Ken Seitz.
The higher sales guidance for the year comes despite the company reporting lower first-quarter sales on the back of delayed planting in North America. Offshare sales volumes increased, but were impeded by the Canadian Pacific Railway labour strike and weather-related issues.
Nutrien's first-quarter potash sales reduced by 17% to 1.22-million tonnes, but the average sales price surged 200% to $684/t, as uncertainty about future supply from Russia and Belarus supported strong global demand.
Russia and Belarus account for about 40% of global potash production and exports. Financial sanctions and restrictions imposed on the two countries have significantly constrained supply with reported potash exports from the region about 20% lower in the first quarter.
The higher potash sales volumes, combined with stronger selling prices and higher gross margin on retail crop nutrients and crop protection products, led Nutrien to also raise its full-year 2022 adjusted earnings before interest, taxes, depreciation and amortisation (Ebitda) guidance. The company now expects adjusted Ebitda of between $14.5-billion and $16.5-billion, from a previous range of $10-billion to $11.2-billion.
The guidance on earnings a share has also been lifted to a range of $16.2 to $18.7, from $10.2 to $11.8 previously guided.
"We expect to generate higher earnings and cash flows in 2022, which provides an opportunity to accelerate our strategic initiatives that we believe will advance sustainable agriculture practices and create long-term value for all our stakeholders. This includes the potential to expand our low-cost fertilizer production capability, enhance our leading global distribution network and proprietary products business, and return additional cash to our shareholders," added Seitz.
Nutrien reported a sharp increase in adjusted net earnings from $806-million in the first quarter of 2021, to $2.6-billion in the first quarter of 2022. Its adjusted earnings a share came to $2.7, compared with $0.29 a share.
The company generated free cash flow of $1.8-billion In the quarter under review.