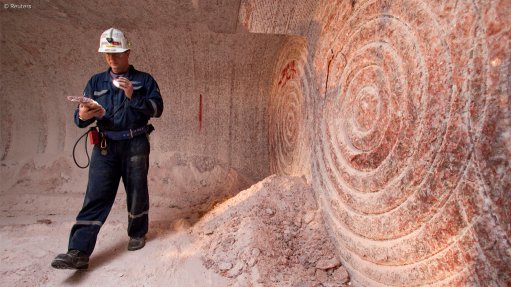 Photo by: Reuters
VANCOUVER (miningweekly.com) – A late start to the spring season across North America and west coast rail performance issues were the main contributors to a disappointing first quarter for plant fertiliser major Nutrien, the company said on Monday.
The Saskatoon, Saskatchewan-based company reported adjusted net earnings of $105-million, or $0.16 a share, which came in far below average analyst predictions calling for earnings that exclude special items of $0.29 a share, derived from forecast revenues totalling $4-billion.
Actual revenues came to $3.7-billion, largely in line with the combined revenues of Nutrien's constituent companies Potash Corporation of Saskatchewan and Agrium Inc in the comparable quarter of 2017.
Potash segment earnings in the first quarter increased due to higher prices, lower production costs, merger synergies and strong offshore sales volumes, despite experiencing significant rail issues during the quarter. Potash sales in the first quarter rose 11% to 3.13-million tonnes, as Nutrien reported strong customer engagement and positive potash sector fundamentals that continued to support potash deliveries.
The average realised potash price climbed 11.5% year-on-year to $184/t, and the company expects potash demand to remain robust as a result of high underlying consumption and relatively low inventory levels in most major markets. For this reason, Nutrien has increased its global potash shipment forecast to 64.5-million to 66.5-million tonnes for this year.
Nutrien advised that it has increased its full-year 2018 earnings guidance to $2.20 to $2.60 a share, with profit for the first half of the year ending June of $1.50 to $1.65 a share.
President and CEO Chuck Magro noted that Nutrien expects a strong second quarter with improved grower margins and strong demand and firm prices for most crop inputs.
Nutrien's NYSE-listed equity closed Monday 0.62% lower at $46.24 a share, and lost more ground in after-market trading, shedding 0.52% to $46 apiece.
Meanwhile, US crop fertiliser firm The Mosaic Co also on Monday reported disappointing earnings, as it too fingered a delayed spring and transportation bottlenecks in Canada for its woes.
Excluding special items, the company reported headline earnings of $0.20 a share, missing analysts' average estimate of $0.28 a share, according to data provided by Thomson Reuters. However, the company also raised its 2018 headline earnings guidance to between $1.20 and $1.60 a share, up from its earlier forecast of between $1 and $1.50 a share.
Mosaic's NYSE-listed equity also took an after-market beating, clipping 2% off its closing share price of $27.56, to change hands at $27 apiece.