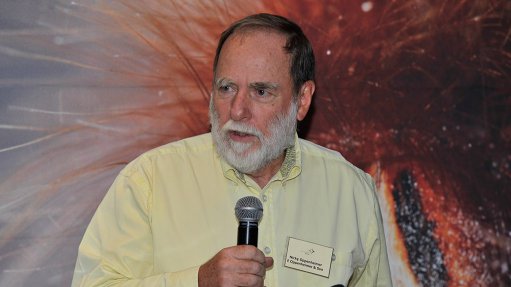 Nicky Oppenheimer
JOHANNESBURG (miningweekly.com) – The Oppenheimer family, which three years ago sold out of diamond company De Beers, announced on Tuesday that it was delinking the properties of E Oppenheimer & Son from the Diamond Route, which takes in the 250 000 ha of cross-regional land that originally kept potential diamond thieves far away from diamond diggings, but which is today geared to conservation and ecotourism, incorporating new and largely undiscovered natural wonders, as well as historical and cultural elements.
In an opening address to the sixth Diamond Route research conference in Johannesburg, Nicky Oppenheimer, who launched the initiative at the World Summit on Sustainable Development in 2002 while chairperson of De Beers, said that long and hard thought had been put into separating "and it seems to me that this is the right time for the Oppenheimer properties to separate themselves from the Diamond Route".
Oppenheimer emphasised that the decision was not being taken with any sense of conflict or anger but was the result of the "inevitable drifting apart that takes place when entities are no longer rubbing shoulders, joined at the hip".
"That's the way life goes and so I believe it is the right time to separate," said the grandson of Sir Ernest Oppenheimer - who founded Anglo American, which now controls De Beers, 98 years ago - and the son of Harry Oppenheimer, who formerly chaired De Beers, which was founded by Cecil John Rhodes in 1888.
The Diamond Route, which takes in land surrounding diamond mines, became the biodiversity conservation custodian under De Beers, E Oppenheimer & Son, De Beers Consolidated Mines' black economic-empowerment partner, Ponahalo Investments and more recently Debswana.
The route links eight sites across northern South Africa, stretching from Namaqualand on the West Coast, to Kimberley's Benfontein, Rooipoort and Dronfield, then north to Tswalu in the Kalahari, through Brenthurst Gardens in Johannesburg, eastwards to Ezemvelo nature reserve, northwards to Venetia, in Limpopo, the reserve around De Beers' rich Venetia diamond mine, and right up to the edge of the Makgadikgadi Pans in Botswana with the Orapa Game Park.
Geared for both ecotourism and general tourism, the route incorporates new and largely undiscovered natural wonders, as well as historical and cultural elements, including diamond mining.
It offers a broad array of activities with expert trained guides, but also allows self-guided tourism at some destinations.
It came about when De Beers and the Oppenheimers were completely at one. But things have changed.
Oppenheimer confided at the Diamond Route conference attended by Creamer Media's Mining Weekly Online that he had found the sale of the family's interest in De Beers to Anglo American in 2012 "an extraordinarily difficult and traumatic thing to happen".
"But my head knew full well it was the right thing to do," he said, adding that it had, however, created a drifting apart between the Oppenheimer family and De Beers.
"It is somewhat like if you had been married to somebody for all your life and then you find yourself one person in England and the other in South Africa, with little communication between the two," he said.
With the best will in the world, and the best admiration in the world, such circumstances caused entities to find different things to think about, different things to do "and that has happened within the Diamond Route and it's natural".
But the decision to separate had not been easy.
"We've been thinking long and hard about this and it seems to me that this is the right time," he reiterated.
He described De Beers as being lucky in the sense that when diamond mines were discovered, big land zones were seen to be required around them, "not altruistically, though that is the way it has come, but simply for alluvial diamonds and diamonds that have flown by nature from the kimberlitic pipes being discovered.
"This gave De Beers a head start; it had this area to conserve. It did not want people there. It wanted nature there and so De Beers was given a special gift that it needs to look after.
"What a great advertisement for a fantastic company like De Beers to be able to demonstrate to the world at large what it does with the properties which it owns," Oppenheimer said.
The properties were not only in South Africa but also in Botswana, where Debswana was now also part of the Diamond Route, and could well extend to the properties in Canada and anywhere else where De Beers found diamonds.
"However I say that the Oppenheimer properties should part from the Diamond Route, I don't believe that that should in any way be the end of the relationship between the two of us.
"This conference is something that is hugely important and certainly something that we will support going on into the future," Oppenheimer added.
Meanwhile, Bloomberg reported simultaneously that the China-fuelled commodity slump was currently also hitting the diamond industry, which it described as bad news for Anglo American, the owner of 85% of De Beers since Anglo's uptake of the Oppenheimer holding.
The news service said further that the cooling demand for diamond jewellery in China, the biggest market after the US, was the latest sign that the country's slowdown was not only a problem for industrial commodities.
At the same time, De Beers customers - who trade, cut and polish the mining company's rough diamonds - were complaining that the diamond mining company was demanding more for its rough than many in the industry could afford to pay.
"It's a catastrophe. De Beers is saying it's business as usual; it's not business as usual. The market is much weaker than what De Beers tries to show the world," Guy Harari, co-founder of rough-diamond trading platform Bluedax, was quoted as saying.
Lower-than-expected demand from the Asian nation had caused a blockage in the long diamond pipeline as inventories built and prices slid, while simultaneously diamond producers like De Beers were reluctant to cede their hard-won price gains, the Bloomberg report added.