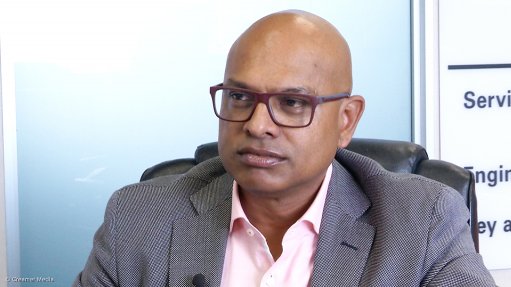 RAJEN GOVENDER It is imperative that industry and government work together to approach Industry 4.0 as an opportunity to establish new training and apprenticeship programmes
Photo by: Creamer Media
With 2019 ushering in new executive leadership at employer and employee representative association the Constructional Engineer- ing Association of South Africa (CEA) chairperson Rajen Govender believes that it is the ideal time to focus on the association and industry's readiness for the Fourth Industrial Revolution, or Industry 4.0.
Industry 4.0 is the automation revolution that could change work and business as expansively as the first Industrial Revolution did. "We cannot afford to ignore it any more. We should have started the move towards automation some years ago, considering that the engineering environment is a fairly labour-intensive industry and many of today's jobs will probably not exist in future," he explains.
Govender believes that industry need not shy away from automation, as there is evidence that some projects and prototypes that have been successfully run on artificial intelligence still require human intervention or value add, but will use new and different skills for these applications.
"We should not find that automation will create large swathes of unemployment, but rather the development of new skills and require- ments."
He says it is imperative that industry and government work together to approach Industry 4.0 as an opportunity to establish new training and apprenticeship programmes, while the curriculum at universities of technology must sufficiently prepare students for the new age of automation.
The CEA will engage with the Department of Higher Education and Training to ensure that students are not only vocationally ready to enter the workplace but also trained for entrepre- neurial success. "That is the differentiator that we are looking for," states Govender.
There also needs to be a unified approach to fighting the evils of unemployment, inequality and poverty, which are challenges facing not only the metals and engineering industry but the country in general. "The CEA represents about 58 000 employees and is one of the bigger associations in the industry. As an employee representative, we need to lobby government to pursue infrastructure stimulus to increase job crea- tion and, thus, decrease unemployment," explains Govender.
Towards the end of 2018, there were definite signs of an uptick in the industry, with some economists predicting a positive outlook for the industry this year, he says.
"The upstream and downstream offshoots from that will bode well for suppliers in the engineering industry, as well as suppliers in other sectors of the economy such as mining."
The CEA, as a lobby group, ensures that the industry is adequately represented to influence government to continue to pursue the needed infrastructure projects and, ultimately, influence policy changes for positive gains. This will create stability in the industry and could positively influence the national wage negotiations, which are due to take place next year.
The association's Labour Broking Division and the Temporary Employment Services (TES) divisions offer different solutions in terms of representing employers engaged in the construction engineering industry, but the main objective is to ensure that member companies comply with government regulations in terms of the Labour Relations Act and the Basic Conditions of Employment Act, ensuring there is no exploitation in the industry.
Govender says that, should government push ahead with the needed infrastructure stimulus, the CEA will rely heavily on both divisions to support companies that supply the labour demand that those projects would require.
"The two divisions assure good corporate governance, maintain good employer relations and work closely with all employee stakeholders and their representatives in the unions. Smooth wage negotiations, such as those in 2017, can never be guaran- teed, and this is always one of the main challenges facing the industry. It is imperative that we continue to see our employees as part of the ecosystem throughout the term of the wage deals that are concluded."
Meanwhile, the CEA has close ties with steel construction association the South African Institute of Steel Construction and nonprofit technical organisation the Southern African Institute of Welding (SAIW). They provide CEA with important data, facilitate oversight and offer information on projects in the steel construction sector, ensuring that it is kept abreast of the latest developments in steel construction.
"The SAIW plays a pivotal role in terms of supplying highly skilled welders for the South African market. We need to ensure that we guard this environment and these skills and not allow international projects to bring foreign nationals to perform these skills to the exclusion of local talent," notes Govender.
South Africa needs to be able to produce those skills locally and SAIW plays a crucial role in ensuring that there are enough well-skilled people with the necessary competence to adequately fulfil this role, he concludes.