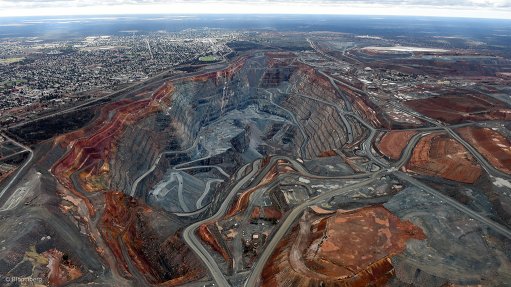 KCGM is one of the world's largest gold mines
Photo by: Bloomberg
Gold mining company Northern Star Resources is mulling over three potential mill expansion options that were put forward in a recently completed Kalgoorlie Consolidated Gold Mines (KCGM) mill optimisation prefeasibility study (PFS).
The PFS formed part of an investigation into opportunities for growth and the unlocking of additional value through the optimisation of operations following Northern Star's takeover of the mine.
KCGM, in Western Australia, is one of the world's biggest gold mines with a mineral resource of 27.4-million ounces and an ore reserve of 11.9-million ounces.
Northern Star acquired 50% of the mine on January 3, 2020, and assumed 100% control of it following a merger with gold mining and exploration company Saracen Mineral Holdings on February 12 last year.
Northern Star MD Stuart Tonkin said on Tuesday that the PFS outcome constituted an "enormous" opportunity.
"The three mill expansion options are financially compelling and offer significant operational benefits to potentially create substantially more value than maintaining today's 13-million tonnes a year milling capacity. The key difference between the three mill expansion options is free cash flow generation, a key strategic pillar for the company," he explained.
The first mill expansion option entailed expanding the mill's capacity to 17-million tonnes a year through a bolt-on expansion.
A second expansion option put forward in the PFS was to expand its capacity to 24-million tonnes a year through a 70% process plant refurbishment.
A third expansion option involved a complete rebuild, constituting a greenfield process plant, which would expand the milling capacity to 22-million tonnes a year.
"While we are confident and well-positioned to pursue a mill expansion at KCGM, given access to a highly skilled workforce and our recent major project experience, maintaining the current 13-million tonnes a year milling capacity is an option that remains firmly on the table," Tonkin said.
Permitting would be required for all three expansion options, with the full rebuild option requiring a new plant location on the existing tenure footprint.
The expected capital expenditure on the proposed expansion options was estimated to range from A$440-million to A$1.4-billion, depending on the option selected, and would result in a substantial increase in the mine's net present value.
At a gold price of A$2 250/oz, Northern Star said that the internal rate of return (IRR) would be between 13% and 26%, enabling a payback period of about three to five years.
At a spot price of A$2 600/oz, the IRR would be 16% to 31%, which would allow a payback period of between two and five years.
Northern Star said that the expansion of the mill's capacity would also result in gold production growth of 100 000 t/y to 200 000 t/y, as well as an all-in sustaining cost (AISC) reduction of up to A$200/oz, averaged over the first 10 years post-construction.
"We will now embark on the final study phase to optimise the best pathway to generate superior returns for shareholders. We will not grow for growth's sake but remain focused on the disciplined and transparent allocation of capital and a strong balance sheet," Tonkin said.
The next steps include finalising the feasibility study, where opportunities to further maximise value may be progressed, subject to an investment decision.
Tonkin said that, regardless of the outcome of the final feasibility work to determine the most valuable option, the KCGM pathway to 650 000 oz/y by the 2026 financial year would remain unchanged, with regional synergies and production growth enabling a lower AISC position than what was being currently achieved.
Transitioning KCGM to a lower-cost position would also enable Northern Star to revisit the geological model to identify extra opportunities at the operation, as well in the broader region.
Since taking over KCGM, Northern Star has endeavoured to improve its understanding of the underground resource base. So far, the company has increased the mineral resource to 27.4-million ounces and the ore reserve to 11.9-million ounces.
Since consolidation, Northern Star has also managed to increase the Fimiston underground mineral resource to 65-million tonnes at 2.3 g/t for five-million ounces, as well as increase the Mt Charlotte underground ore reserve to 1.2-million ounces.
Northern Star has also overseen the cutting of the first underground portal in the mine's Super Pit in almost 25 years to establish an exploration drill platform.
The company has also delivered a new fleet to increase material movements by more than double, raising it to 65-million tonnes a year, in line with plans to eventually achieve 80-million tonnes to 100-million tonnes a year.
Against this backdrop, Northern Star's green power strategy was expected to lower carbon emissions and power costs.
The mill optimisation study work would enhance Northern Star's social investment by ensuring KCGM could contribute to sustainable mining and offer broader environment, social and governance (ESG) benefits in the Goldfields-Espearance region.
The sustainable mining and ESG benefits that Northern Star believes can be achieved include enhancements in the areas of safety, social performance, employment and infrastructure.
Tonkin said that the outcome of the final stage of the KCGM feasibility would be communicated in due course.