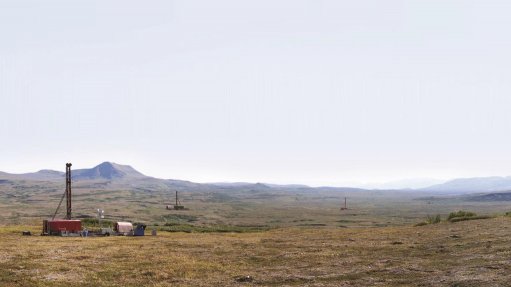 Photo by: Northern Dynasty Minerals
TORONTO (miningweekly.com) – Diversified mining major Anglo American on Friday declared that it had completed its exit from the potent, yet controversial Pebble copper/gold/molybdenum project, in Alaska, after project partner Northern Dynasty Minerals exercised its right to consolidate ownership in the project.
Northern Dynast,y in a separate announcement on Friday, announced that it had re-acquired full ownership and control of the Pebble Limited Partnership (PLP), following all Anglo American representatives having resigned from the Pebble Mines Corp board.
"During the course of the last six years and at a cost of $556-million, as of September 30, substantial progress has been made toward our goal of permitting, constructing and operating a world-class, modern and environmentally responsible mine at Pebble that will co-exist with the fisheries resources of south-west Alaska," Northern Dynasty president and CEO Ronald Thiessen said.
Northern Dynasty, which has had the PLP with Anglo for the past six years ago, will now go it alone and have the full, sole benefit of the cash spent on the project so far.

He added that Pebble's engineering design, environmental science and regulatory planning were sufficiently advanced that PLP would be in a position to trigger federal and state permitting under the National Environmental Policy Act (NEPA) in the first quarter of 2014.
Anglo Pebble's withdrawal from the project included providing financial support to PLP to cover its commitments to employees, local institutions and community organisations.
Northern Dynasty said its current focus would be to consolidate all of the technical data, engineering work and permitting documentation related to Pebble into a data room, with the goal of qualifying and securing a new partner in 2014.
A final decision on permit filing would be made in 2014, by the Northern Dynasty board.
"Our primary focus is to select the right partner for Northern Dynasty and the right investor for Alaska, a company with sufficient financial resources and technical capabilities, working experience in the US and a shared commitment to environmentally sound and socially responsible development. We have little doubt that Pebble will attract major mining company interest in the months ahead," Thiessen said.
Former Anglo CEO Cynthia Carroll bought into the project in icy Alaska in 2007 in pursuit of "one of the very few remaining large-scale copper deposits in the world".
"Pebble is a unique low-cost, long-life project," Carroll enthused at the time – but the project ran into strong opposition from native communities.
CONTROVERSIAL POTENTIAL WEALTH CREATOR
Despite its potential to support 15 000 jobs and contribute $2.5-billion-plus a year to US gross domestic product over decades of production, the concern of the local Eskimo fishing community centres on Bristol Bay's 'renewable' wild salmon fishery being negatively impacted by the 'non-renewable' Pebble mine potentially disposing waste into fishing waters.
The Stop Pebble initiative argues that the proposed Pebble mine will be gouged out of an American paradise that is filled with salmon, bears, moose, caribou, wolves and whales and that has sustained local livelihoods for thousands of years.
More than 67 varieties of state and federal permits will be required before construction can begin and more than a dozen state and federal entities will oversee the process.
Acquired by Northern Dynasty in 2001, Pebble is, however, clearly a project that could help to close the economic void that is being left by depleting Alaskan oil.
The project proposes to construct a large openpit mine; an on-site milling facility; on-site storage for rock, ore and tailings; a port facility; an access road connecting the mine site to the port; an on-site water supply for the mill; and to provide electrical power for the mine site, in south-west Alaska.
In addition, the project plans to include an on-site 378 MW gas-fired turbine plant, a 138 km transportation corridor to Cook Inlet for road and pipeline rights of way and a new deep-water port at Cook Inlet.
The project's key assets are the near-surface 4.1-billion-tonne openpit-style Pebble West deposit and the deeper and higher-grade 3.4-billion-tonne Pebble East deposit, which is amenable to underground bulk mining methods. The Pebble resources rank among the world's most important accumulations of copper, gold and molybdenum.
Estimates show that the Pebble deposit comprises measured and indicated resources of 5.94-billion tonnes, grading 0.78% copper equivalent, and containing 55-billion pounds of copper, 67-million ounces of gold and 3.3-billlion pounds of molybdenum.
The deposit also has 4.84-billion tonnes of inferred resources, grading 0.53% copper equivalent and containing 26-billion pounds of copper, 40-million ounces of gold and 2.3-billion pounds of molybdenum.