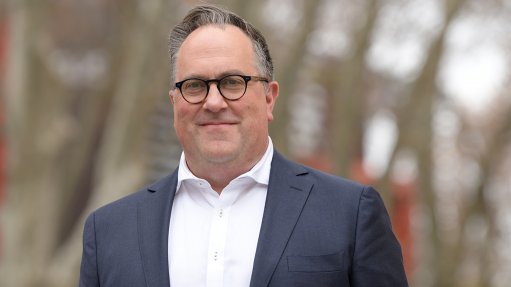 Jupiter Mines CEO Brad Rogers.
JOHANNESBURG (miningweekly.com) – The Northern Cape's Tshipi Borwa manganese mine is "up there with the best of them", says new Jupiter Mines CEO Brad Rogers, who has seen his fair share of mines around world as the former head of a company with more than 50 mining and industrial sites in Australia and Indonesia.
Rogers has been running ASX-listed Jupiter, a 49.9% investor in Tshipi, since the beginning of August, having joined the company from Bis Industries, Australia's 140-year-old mining logistics company.
The unlisted empowered mining investment company Ntsimbintle Holdings, headed by chairperson Saki Macozoma, has a 20% shareholding in Jupiter and through Ntsimbintle Mining, owns the rest of the shareholding in Tshipi, which is located in the southern part of the manganese-rich Kalahari basin, where South Africa hosts the largest estimated mineral reserves of manganese ore globally and accounts for 74% to 78% of the world's identified manganese resources.
Formed in 2003 to pursue exploration and mining opportunities emerging in the South African manganese sector, Ntsimbintle scored big with its investment in Tshipi.
Rogers sees his current position as presenting his biggest ever opportunity and believes in a bright future for manganese as well as Jupiter's opportunity to play a role that delivers value for its local communities and shareholders.
He is big on environmental, social and governance (ESG) principles and is working on a sustainability strategy and report for Jupiter, which takes in the prospect of solar power energy generation for the mine, which was set up with standalone diesel fuel usage.
He sees a number of organic growth opportunities for the operation, which has a rail capacity considerably above its current production output.
Tshipi was constructed with a five-million-ton-a-year loadout station for rail and has been producing in the order of 3.3-milion to 3.5-million tons a year very regularly for the last four years.
"We're on that same run rate today, so there's an opportunity to increase our production output. We've got a very long mine life of more than 100 years and so there's the ability to be able to drive organic growth in that regard," Rogers commented to Mining Weekly in a Zoom interview. (Also watch attached Creamer Media video.)
He foresees manganese receiving increasing demand pull through the growth in electric vehicle (EV) battery demand when manufacturing in general starts to kick off in earnest.
"Manganese into that demand source currently is still at quite low levels. That's going to be a high growth area although off a low starting point, we think, starting in about three years' time," said Rogers.
Mining Weekly: Jupiter and Tshipi have been joined at the hip from inception. What is your impression of the operation and of South Africa as a mining investment destination?
Rogers: I'm relatively new at Jupiter. I've been on board since the first of August and it's been great to get here a number of times actually since then, and go on to site. Looking at Tshipi before joining and studying the numbers I was expecting to see a quality operation and that's what I found. The role I had prior to joining Jupiter was running Australia's largest mining logistics company, Bis, a 140-year-old company that was on 50 different mine sites, mostly for larger miners around Australia and also Indonesia, and so I've seen around the world my fair share of mine sites, good and bad, and I would say Tshipi is up there with the best of them. Very well invested. Very good, stable, experienced management team as well, and you can see that in Tshipi's results, great safety record, which I think is always a good marker for how well the place is run in general, and that's certainly the case with Tshipi. But also very stable production and a low and reducing cost base. Everything I saw in terms of the operation itself really married up with that good impression I had prior to joining.
Tshipi's net profit was up in the half year to the end of August but to what extent is South Africa's railway workers' strike and other disruptions likely to impact shipping targets in the next six months?
You would have seen that the railway and ports Transnet strike affected our operations for around about two weeks, along with the rest of the country. Thankfully, we were able to continue mining during that period of time, but rail operations and also port operations were disrupted for that period of time. Two weeks is not too material in the scope of six months, and we did have a very good first six months, so we're not expecting it to be overly material. We've already got stockpiles that we're able to call on in order to make sure we kind of stay on track for the six months, notwithstanding that two-week disruption.
Are there any plans to make use of the hot Northern Cape sun to self-generate solar power?
That is something that we are focused on, energy in general, but more broadly ESG, so I'm busy working on a sustainability strategy and report for Jupiter. In the work that I'm doing there, I've actually observed that there's a lot of great work already been done by management at Tshipi that Jupiter hasn't really communicated fulsomely to our investors and I think the Australian investors are very interested in that. So, aside from power, there's a lot of good work around reducing the footprint of water usage, of land disturbance and of carbon emissions. There are two big things that we can do in order to continue to improve in those areas and also improve financially. One of them is fleet renewal and diesel fuel usage. The other big one is definitely solar power. As you said in your question, that's a great area of the world to be focused on solar power, and I think it's something that the team have looked at before. Tshipi was set up with standalone diesel fuel usage, so we're not impacted by any loadshedding. We're able to use our own standby diesel fuel usage, but that's an expensive way of getting your power, so we're having another look at that, and it's something that I think is very likely to have a beneficial financial case, and also fits in with an overall focus on ESG that I'm keen to move forward.
What tonnage is Jupiter guiding for the full financial year given that Tshipi shipped 1.7-million tonnes of ore in the first half?
We don't actually provide full-year guidance, but it's probably not too hard to figure out if you look back at Tshipi's last four years. We've come in at between 3.3-million tons and 3.5-million tons for each of the last four years and if you take the first six months and multiply by two, you can work out that we are in the range to be able to deliver that same sort of outcome again. I think one of the great things about Tshipi is it's a bulk commodity mine that is providing stable production and reliable quality, and the mine has done a great job of that. In the first six months that's been the case as well.
Do you see organic growth opportunities?
Organic growth, absolutely. There are a number of opportunities there. Firstly, Tshipi was constructed with a five million ton per annum loadout station for rail. We have, as I mentioned a moment ago, been producing in the order of 3.3-million tons to 3.5-million tons per annum very regularly for the last four years, and we're on that same run right today, so there's an opportunity to increase our production output. We've got a very long mine life of more than 100 years and so there's the ability to be able to drive organic growth in that regard. Financially, there are opportunities as well. It's important for bulk commodity mines like Tshipi to be able to continue to not only be stable in production profile and increase where possible, but also to continuously improve on costs. There are some opportunities at the mine site to eliminate mobile rehandles that we currently have between the crushing circuits and the train loadout. There are always opportunities to be more efficient and productive with respect to mining. But if you look at the cost build-up of a mine like Tshipi, or frankly any bulk commodity mine anywhere in the world, a lot of that opportunity is going to be in the logistics, and logistics has been my background for the last 15 years, and for the last seven years running as CEO and MD of Australia's largest mining logistics company. I'm pretty focused on how can we be more efficient logistically because logistics costs for Tshipi are double mining costs and higher than what logistics costs ought to be, so I think there's some opportunities to improve in that area too - so a mixture of volume and also cost improvements. If organic growth means financial improvement, which it should, with our existing assets, we've got those things, and also solar energy will help. If we're having to use more of our own diesel-fired power, then putting in solar will help with that too.
How would you describe the current state of the global manganese market?
It's a bit muted at the moment. Manganese prices – and obviously we're looking at the Port Elizabeth 37% benchmark manganese prices, the ones we're focused on since that's the index that Tshipi sells off – are about 20% above their four-year low, so it's not like we're in a lull and those prices have stabilised around the current levels for the last couple of months. The major factor is steel demand out of China and that's a bit muted now as well. But it's okay. Tshipi has a very low cost base, so it's still able to be cash generative and profitable through the cycle, and that's certainly the case today. What China does is going to be the main driver of any improvement in the manganese price since overwhelmingly manganese today goes into steel in China.
To what extent does Jupiter expect the battery industry to grow towards high manganese formulations?
We do expect that. If you look at, obviously, the drivers of that trend, the first one is that there's going to be high growth in EV batteries generally, regardless of what chemistry they use. There's going to be, by most estimates, around about 14% to 15% compounding annual growth rate of EV battery manufacturing generally between now and 2024. Within that overall thematic, there are different chemistries and by chemistries I mean what materials like manganese those batteries are using, but if you break up the overall thematic there of EV batteries overall, today relatively low levels of battery manufacturing compared to what it will be in 20 years' time. But NMC chemistries, meaning nickel, manganese cobalt-containing batteries, today make up about 50% of all batteries that are manufactured. That will grow by the end of this decade. Most forecasts I look at suggest to about 60% to 70%, so NMC chemistries are going to grow in prominence within an overall thematic that is going to grow, so the top line obviously EV batteries that are being manufactured will grow. The other change we are expecting and its starting to happen is that the other major chemistry in the overall mix, lithium-metal-polymer (LMP) batteries, are starting to use manganese in those chemistries as well.