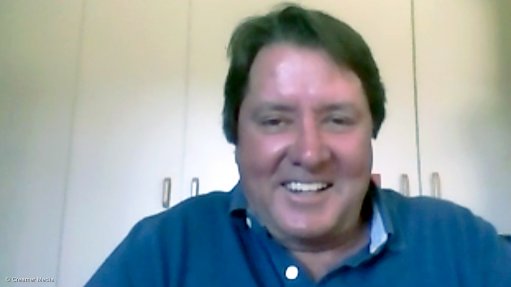 PGM Management MD Gerhard Meintjes
Photo by: Creamer Media
JOHANNESBURG (miningweekly.com) – South Africa is still "elephant country" and needs to boost exploration in the Northern Cape's highly prospective Namaqua metamorphic geological province in particular, says PGM Management MD Gerhard Meintjes.
Meintjes, a private explorer who spoke to Mining Weekly in a Zoom interview, focuses on projects that have a very early level of drilling and exploration information. (Also watch attached Creamer Media video.)
"I think that's where there's a lot of value," says Meintjes, who has found the last ten years slow and sees the main reason being the lack of investment rather than South Africa's regulatory environment. For him, the problem lies more in the absence of funding.
"We need to relook at this country. There's tremendous potential. This is still elephant country. We probably won't find a Witwatersrand deposit, or a Bushveld Complex, but we've got a lot of potential on other deposits that could be relatively shallow and cheap and easy to develop," he says.
He recalls that mineral rights and the mining and exploration industry was very tightly controlled by a few major companies until a reshaping took place in the early 2000s, after which much of the low-hanging exploration fruit was grasped.
With most of the easy projects now long gone, no real grassroots or early-stage exploration have been carried out for some time.
"The major companies did do grassroots and early exploration in the pre-2000s but their focus was very different. They targeted large-scale projects," says Meintjes, who recalls working for a gold miner that walked away from any prospect that did not have a minimum of three-million ounces of gold.
By contrast, elsewhere in the world gold projects of less than a half a million ounces were, even then, being turned to account as opencast, quick-and-easy operations, and typically, once they got going, extensions to the deposits were found and the areas continued to be mined over prolonged periods.
South Africa, he believes, needs to enter the world of real exploration, particularly at this point in time, when technology is creating major new opportunities.
He notes that today's tools have changed drastically since South Africa's last major exploration drive was made into base metals in the 70s and 80s.
He has obtained increasing insight through a nickel deposit that was lying fallow in the Northern Cape, and sees huge potential in the Namaqua metamorphic province, which he believes has received too little attention – with the exception of Orion Minerals' recent foray into the endowment.
Orion entered into a joint venture on a Meintjes project and there is a lot of insight now into what he describes as the metamorphic area's amazing potential.
The main focus at this stage is on copper deposits, which carry with them significant zinc and also some lead, plus a host of other known deposits. There is the added presence of gold in some of the deposits and important nickel sulphide deposits, which, in turn, carry with them copper, gold and platinum group metals.
He credits the Northern Cape with also being rich in the new-era metals such as rare earths and lithium, with the entire geology of the area opening up dramatic new understanding in the last three years.
SOLVING THE LACK OF FUNDING ISSUE
A share flow-through scheme, which has proved highly successful in Canada, has been looked at many times in South Africa as a means of solving the exploration funding issue but never implemented, even though it ultimately generates far more revenue for the tax authorities than it grants investors in tax incentives.
"I'm not sure if we can implement the exact system that is in place in Canada but that is certainly something that needs to be looked at because funding, especially for early exploration, is a critical factor.
"We've never had real funding for junior companies for early exploration in South Africa. All the institutions that do funding for mining projects and for exploration do that only at a very advanced stage of projects.
"You must be very close to a mining right application or close to starting construction of the mine before you can get funding in South Africa. So, in the end, you've still got to get on a plane and go and look for funding outside of South Africa and that's a travesty.
"I think we can do a lot of that funding from within South Africa through our own institutions. It doesn't take a lot of funding to take a prospect to a stage where you can see whether it is go or no go and there's no reason why we shouldn't get money from South Africa and we need to address that," says Meintjes.
It is not only the large, established companies that fund about 60% of global exploration spend but also venture capital companies that form the remaining 40%, and the flow-through share scheme is a mechanism that enables the transfer of the exploration expenditure from a tax benefit perspective back to the investor.
Being advocated by some for South Africa is a flow-through scheme that forms part of a full suite of measures within a comprehensive exploration strategy.