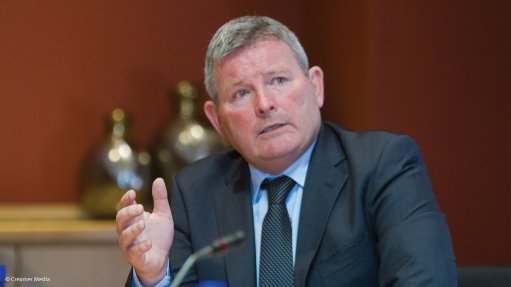 Northam Platinum CEO Paul Dunne
Photo by: Creamer Media
JSE-listed Northam Platinum has requested that Royal Bafokeng Platinum (RBPlat) convene a shareholders meeting to consider the appointment of two Northam representative directors on the RBPlat board.
This follows Northam's acquisition of a 32.76% stake in RBPlat for R17-billion, making it the largest shareholder of the company, with the option of increasing its stake to 33.3% and further to 34.9%, the latter of which involves a put and call option agreement with an RBPlat subsidiary.
At the time of announcing the acquisition earlier this month, Northam CEO Paul Dunne said the deal gives Northam significant long-term optionality in that its assets are young, shallow and well capitalised, complementing Northam's basket of platinum group metals.
Northam has proposed that Dunne and Northam CFO Aletta Coetzee join the RBPlat board as nonexecutive directors.
The board of RBPlat said in a statement on November 24 that it remained committed to engaging Northam to better understand the company's intentions, including its views on how it believes it can unlock value for RBPlat shareholders.
"Since listing in 2010, significant value has been created for all our stakeholders through the execution of the company's strategy, a key pillar of which is through responsible and disciplined mergers and acquisitions.
"As a business that has been built with employee and community benefit at the core, the potential impact of this on all our key stakeholders remains critical to our approach. RBPlat remains committed to playing a positive role in the transformation landscape and in our communities," RBPlat CEO Steve Phiri noted.