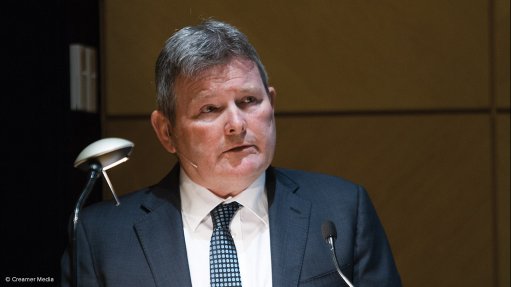 Northam Platinum CEO Paul Dunne
Photo by: Creamer Media
JOHANNESBURG (miningweekly.com) – Platinum producer Northam Platinum's growth, diversification and optimisation strategy is on track, with progress being made in the development of the Booysendal South and Zondereinde mines, in Limpopo.
Zondereinde has enjoyed relatively stable labour relations over the past few years, which has contributed to good operating performances, the South African company said on Friday.
Wage negotiations are currently in progress after a three-year wage agreement ended.
During the financial year ended June 30, the commissioning of the new furnace at Zondereinde helped to boost total refined metal production by 5.2% to 549 000 oz of equivalent refined six-element platinum-group metals (PGMs).
Purchased metal increased significantly year-on-year to 105 000 oz with two additional long-term customers secured, the company said.
Northam increased its production of chrome concentrate by 11% to 650 000 t with improved contributions from Booysendal and Zondereinde, while copper and nickel production was also significantly higher year-on-year.
The miner reported total sales revenue of R7.5-billion, a 10% improvement on the previous financial year's R6.9-billion, as it enjoyed a higher PGM basket price and improved base metal contributions.
For the period ended June 30, the average dollar-basket price increased by 13%, owing largely to higher palladium and rhodium prices, which rose by 33% and 101%, respectively.
The strong South African rand, however, limited the increase in the rand PGM basket price to just 5.3%, Northam said.
"Full mine to market unit cost increases were contained to 7.8% in line with mining inflation to R21 270 a platinum ounce. We believe this positions Northam favourably on the industry cost curve," CEO Paul Dunne said.
Northam widened its headline loss from R636.4-million in 2017 to R701.6-million in 2018, but normalised headline earnings improved from R398.3-million, to R421.5-million.
Dunne said at a presentation of the company's results in Johannesburg, that the year under review had been among the busiest in Northam's history, as it had progressed its strategy in a significantly-challenging period for South Africa's PGM mining sector.
The best defence for Northam in this difficult market, he said, was the company's relative position on the cost curve, and through ensuring that all production was cash generative.
However, Dunne lamented that while Northam's confidence in the markets for PGMs in the medium to long term remained undiminished, immediate challenges were highlighted by the soft price of platinum.
For most of the financial year, the platinum price fluctuated between $850/oz and $1 020/oz.
Also contributing to the negative sentiment towards platinum during the course of the year, Dunne noted, was the 'dieselgate' issue at certain auto manufacturers, as well as the potential future penetration of battery electric vehicles.
The relative price strength of palladium, which rose steadily from $838/oz in July 2017, to a high of $1 139/oz in January 2018, together with that of rhodium, provided Northam with some relief from platinum's weakness, Dunne said.
RESOURCES GROWTH
Meanwhile, Dunne reported that Northam's resource base had grown by 19% year-on-year, demonstrating the benefits of the group's unfolding growth strategy, which ultimately is to produce one-million ounces of PGMs.
The addition of the Western extension at Zondereinde, which Northam bought from Anglo American, has made a considerable contribution to the resource base growth, Dunne said, adding that the finalisation of the acquisition of the mothballed Eland assets from Glencore added a further 19.3-million ounces to the resource base.
This western block provides Zondereinde with additional Merensky and upper group two resources that can be developed cost-effectively by leveraging Zondereinde's existing underground and surface infrastructure. Owing to this, Zondereinde's life expectancy has been extended to over 30 years.
At the Eland assets, full-scale mining would not be resumed until the global PGM market recovered, or until Northam anticipated a sustainable recovery, Dunne said at the presentation.
In a move to take advantage of the synergy that the acquisition made possible, Northam has initiated the restoration of concentrator operations following an agreement to process PGM-bearing material from Jubilee Metals, as of February next year.
The commissioning of the second furnace was a vital development in Northam's longer-term strategy of positioning itself as a major integrated mine-to-market player.
The R1-billion smelter expansion and furnace expansion were built with the help of a €20-million contribution by Northam's long-term refining partner, Heraeus Deutschland.
During the year, capital expenditure absorbed R3.8-billion, which comprised R1-billion spent on the purchase of Zondereinde's Western extension, R1.5-billion spent on the Booysendal South project, R202.7-million spent on the aerial rope conveyor at Booysendal, R175-million spent on the acquisition of Eland and $10.8-million spent on the acquisition of the US recycling assets.
Dunne reported that the aerial rope conveyor system, which would link Booysendal Central mine to the Booysendal South Concentrator, was scheduled to be commissioned by April 2019, although it could come in ahead of schedule.
In addition, Booysendal has successfully transitioned to full owner-operator status.
MARKET OUTLOOK
Dunne believes platinum market fundamentals will improve in the medium term, with jewellery stabilising in China following a sharp fall over the last two years. Growth is expected to continue in India and the US.
Autocatalyst demand remains resilient, despite declining diesel car sales in Europe. The global outlook is for stable demand in 2018, while South African mine supply remains under severe pressure.
Palladium autocatalyst demand has grown significantly over the past few years largely on the back of the rapid rise in car sales in China. The existing market deficit is expected to persist, keeping prices buoyant.
Dunne believes rhodium will remain strong for the foreseeable future. "Tighter exhaust emission standards are being rolled out in China from this year resulting in higher rhodium loadings on three way catalysts.
"The combination of stronger Chinese demand and a reduction in South African mine supply has tightened the market," he said.
Meanwhile, commenting on the draft Mining Charter under Mineral Resources Minister Gwede Mantashe, Dunne averred that the company's position remained aligned with that of the Minerals Council South Africa, of which Northam is a member.
"The Mining Charter of 2018 is a material improvement on the 2017 Mining Charter draft. However, more work needs to be done to create a charter that promotes competitiveness, investment, growth and transformation in South Africa," he said.
In addition, Mcebisi Jonas and Jean Nel will further strengthen the company's board of directors upon their appointment in November, at the annual general meeting.