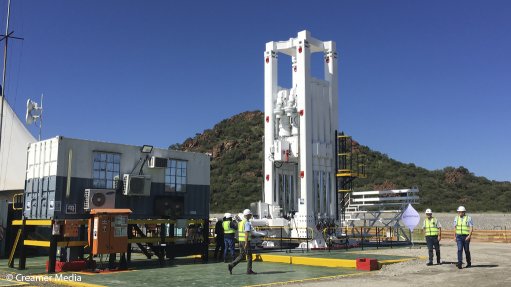 Master Drilling's RD8-R1 drill rig on site at the riase boring of Northam's Zondereinde Number three Shaft
Photo by: Creamer Media's Donna Slater
Platinum group metals (PGMs) miner Northam, through drilling contractor Master Drilling, completed drilling of the No 3 shaft at its Zondereinde mine on April 27, thereby extending the life of the mine and enabling easier and quicker access for personnel to the working face, as well as getting ore to the surface more rapidly.
At a depth of 1 380 m, the 4.8-m-wide shaft will handle personnel and materials, while another two shafts, still under construction, will handle ore and ventilation for the mine.
The current main shaft complex is 4 km away – a distance that poses increasing challenges in terms of getting personnel to the working face and ore out of the mine in a timeous and safe manner.
Work on the No 3 shaft at Zondereinde's significant brownfield capital expansion project – the Western extension – started in early 2019 and, once complete, will add an additional 30 years of life to the mine.
Zondereinde is currently the world's deepest PGMs mine at 2 300 m.
Master Drilling employed its RD8-R1 drill rig to initially drill a pilot hole from the surface to an access point 1 380 m underground, following which a much larger reaming drill bit was used to widen the hole through a raise boring method.
On average, the rig advanced 5.5 m a day.
Master Drilling CEO and founder Danie Pretorius tells Mining Weekly that raise-boring is more time and cost efficient than traditional blind-sink shaft sinking methods, but requires existing underground access to get the reaming bit in place, as well as clear chippings as the drill moves upwards back to surface.
During the directional drilling of the pilot hole, Master Drilling achieved significant accuracy reaching the end of the pilot hole at a deflection of only 142 mm. A raise-bored hole this accurate allows for the hole to be equipped as a vertical hoisting shaft, and at the depth of 1 380 m will be the first raise-bored hole to be equipped for both personnel and materials hoisting at such a deep depth.
REACHING GREATER DEPTHS
Once made fully operational, the No 3 shaft will be able to carry 126 people at 12 m a second using a three-deck cage and counterweight configuration. The rock shaft will be able to hoist as much as 115 000 t a month using 14 t skips in a skip-skip configuration. The ventilation shaft, meanwhile, will be able to exhaust 400 kg a second of air.
Both the No 3 personnel and materials, and rock, shafts will reach production levels three and four, while a third decline will enable material distribution from the No 3 shaft to the respective production levels.
As such, the No 3 shaft underground decline cluster of operations will comprise a chairlift decline and piped mining services, a rock decline equipped with a double drum winder consisting of two 12 t skips, and a material decline equipped with a single drum winder and gondola.
Mining activity from the existing workings of the Zondereinde mine will gradually transition into the Western Extension block. The new shaft will also facilitate the supply of services, including backfill, chilled service water and ventilation, to the underground workings. This will alleviate the challenges associated with distance from the existing Zondereinde shafts.
Zondereinde's Western Extension is a rich resource block containing 21-million ounces of PGMs within the high-grade Merensky and upper group 2 orebodies of the Bushveld Complex.
The Western Extension resource was acquired from Anglo American in 2017 for R1-billion and will enable Northam to increase the output from Zondereinde to 350 000 oz/y of PGMs by 2026 through an additional 16-million ounces of resource.
The development of the No 3 shaft will secure the jobs of Zondereinde's current employee complement of 10 700, as well as add 600 permanent positions, thereby providing the impetus for further economic activity in the province.
Northam CEO Paul Dunne says the milestone project was delivered on time and on budget by the Zondereinde team, in collaboration with Master Drilling. "The resultant long-term stability and life-of-mine extension delivered by this project will have a beneficial impact on the mine, its stakeholders and the local economy for decades to come."