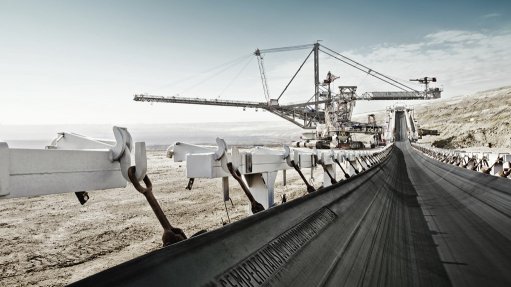 CONVEYOR BELT SOLUTION Many operators have turned to offshore conveyor belt suppliers, resulting in premature product failures and unreliable supply
Over the past three to four years, metal prices have dropped precipitously and North American mining operators have been forced to implement more operational efficiencies, states conveyor belt vulcaniser product provider Shaw Almex CEO Tim Shaw.
"North American mines must achieve operational efficiencies to remain competitive with mining operations in lower-cost countries," Shaw stresses.
Many operators have turned to offshore conveyor belt suppliers to curb costs, which has resulted in premature product failures, owing to quality issues, and an unreliable supply, he warns, noting that North American inventory, engineering and technical support are, therefore, essential.
"Supplying a solution, conveyor belt technology supplier Sempertrans – a division of Semperit Group – uses a global network of production facilities and warehouses located across North America, providing the highest-quality standards, to offer some of the lowest-cost deliveries in the North American market that mitigate long lead times."
Competitively priced, Sempertrans offers mine operators another choice and has been awarded several key supply contracts in Nevada, in the US, and in Mexico for long overland conveyor systems, Shaw says.
"The mining industry in the US has always been a strong economic driver in several key geographic areas. In Nevada, Arizona and Utah, it has contributed heavily to local employment at mines and the suppliers and services companies that support mining operations."
Shaw states that this economic contribution is also evident in western Canada, northern Ontario and in western and northern Mexico. Additionally, he explains that the jobs created by the industry are high paying, offering the longevity and stability essential to creating sustainable communities around these mining operations.

Partnership Development
Sempertrans GM Boris Illetschko highlights that Sempertrans, based in Vienna, Austria, and Shaw Almex, headquartered in Ontario, Canada, partnered on a significant project in 2014, when Shaw Almex won a contract for one of the longest single-flight conveyors in the world, with 34 km of conveyor belts. The client specified that all conveyor belting be supplied by Sempertrans, marking the first time Shaw Almex has worked with the supplier.
Since completing this contract, both companies formalised a sales and distribution agreement for conveyor belts in December 2016 by establishing the new entity Sempertrans USA, which is fully owned by Semperit Group.
"Through the partnership, we combine our in-depth knowledge in conveyor belting and create a strong market presence for both groups in the US, Canada and Mexico," adds Illetschko.
Sempertrans, which produces on average 1 600 km of belts a year, offers a range of technologically advanced conveyor belts for use in the mining, cement and steel industries, as well as ports, power and heating plants, and quarries.
Illetschko enthuses that customers benefit from a "complete solution", which ranges from mixing their own compounds, designing and winding steel cables to offering consulting services.
This includes the conveyor belt design by the Sempertrans application engineering teams and the manufacture of tailor-made high-quality belts and installation, including splicing and splicing supervision.
"Sempertrans brings specialised products, such as Autostable – a self-centring belt for difficult-to-train applications, like reversing conveyors and boom conveyors, as well as traditional steel cords, reduced ply and straight warp fabric belting to mining operations in Northern America," Illetschko adds.
He further explains that the Mine Safety and Health Administration-compliant covers, low rolling resistant covers, and the high heat- and abrasion-resistant and cut and gouge covers round out the offering.
The North American access offered by Shaw Almex has leveraged an even stronger position for Sempertrans on the continent, Illetschko says, adding that, with a focus on traditional sales through value-added distributors, Sempertrans USA has launched a viable alternative to those offered by other major suppliers.