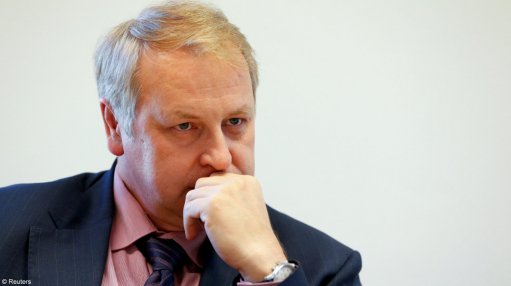 Nornickel COO Sergey Dyachencko
Russian base and precious metals miner Nornickel is developing a system to monitor in real time the soil conditions and the stability of the foundations of its operations in permafrost, as the company moves to find solutions to prevent another environmental disaster in the Arctic.
The real-time monitoring programme will be designed and rolled out by the end of the year, the company said on Wednesday.
In the meantime, the capabilities of the existing permafrost diagnostics center would be enhanced, alongside an additional comprehensive audit of hazardous production facilities.
Nornickel has been under pressure since a major fuel spill at its HPP-3 plant, in Norilsk, at the end of May, including public criticism from Russian President Vladimir Putin.
The company reported on Wednesday that the clean-up of the Ambarnaya river and the collection of contaminated soil had been "practically completed" and that the most complex and labour-intensive work on cleaning and rehabilitation of soil had been launched.
Construction of a temporary pipeline for the transportation of the collected water-fuel mixture to a special treatment and disposal site had started.
"I would like to reiterate that a reduction of environmental impact remains our absolute strategic priority and confirm our commitment to radically improve the environmental situation in the regions of our operations," first VP and COO Sergey Dyachenko commented in a statement on the group's second-quarter production results.
Meanwhile, he confirmed that the Covid-19 outbreak had not had any material adverse impact on Nornickel's operations.
In the second quarter, the output of all key metals had increased against the previous quarter. Nickel production increased by 8% quarter-on-quarter to 56 000 t, copper production rose by 9% to 125 000 t, while palladium and platinum group metals production jumped 32% and 15%, respectively, to 722 000 oz and 172 000 oz.
However, first-half production of saleable products had declined year-on-year, owing to hot commissioning of a nickel refining shop with new chlorine leaching technology at Kola.