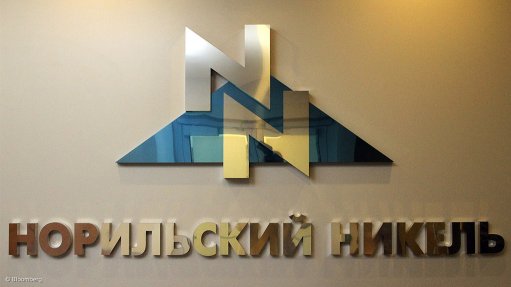 JOHANNESBURG (miningweekly.com) – The world's largest producer of refined nickel and palladium, Norilsk Nickel, on Monday reported a 10% quarter-on-quarter increase in its nickel output, but said third-quarter copper and platinum group metals production had declined.
Nickel production increased to 54 175 t in the September quarter, from 49 418 t in the previous quarter. The company expects to produce between 206 000 t and 211 000 t of nickel in 2017. Output for the first nine months of the year amounted to 157 101 t.
The third-quarter higher production was attributed to the Talnakh concentrator reaching its design parameters and the Harjavalta refinery restarting operations after its yearly scheduled maintenance shutdown. Nickel production at Harjavalta amounted to 15 000 t, up 40% quarter-on-quarter, although the increase was from a low base.
Consolidated copper production fell by 4% quarter-on-quarter to 52 940 t, owing to temporary suspensions at Norilsk's copper smelter as a result of "unfavourable meteorological conditions". The company said it would process accumulated concentrate in the fourth quarter, which should compensate for the decrease in copper volumes in the quarter under review.
Palladium output fell by 11% quarter-on-quarter to 693 000 oz and platinum output dropped by 8% to 174 000 oz. The decrease was attributed to a high base effect of the second quarter, when Norilsk processed precious metal concentrate accumulated in the first quarter.
The company maintained its production guidance of producing between 377 000 t and 387 000 t of copper, 2.64-million to 2.73-million ounces of palladium and between 581 000 oz and 645 000 oz of platinum this year.
Year-to-date copper production amounts to 290 874 t, palladium production to 1.98-million ounces and platinum production to 491 000 oz.