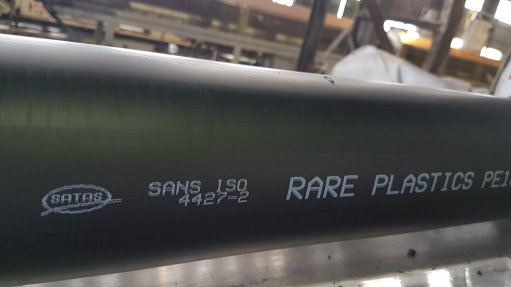 CONFORMING TO STANDARDS SATAS or SABS accreditation is essential to ensuring reliable water infrastructure that adheres to strict standards
Fundamental conformities not being upheld during the manufacturing stages of pipes production has exacerbated South Africa's current water scarcity, says plastics and polymer testing laboratory P.E.S.C. MD Graham Marsberg.

"The basics of pipe manufacturing involves quality workmanship. This consists of visual appearance, colour, blistering, ovality and markings. This involves conforming to standards like SANS 4427-2. When viewed without magnification, the internal and external surfaces of pipes should be smooth, clean and free from scoring, cavities and other surface defects that would prevent conformity for the pipe," explains Marsberg.
He adds that other conformities involve the outside diameter, wall thickness, thermal reversion and ovality of pipes. On the manufacturing side, contamination, temperature, speed and blending are considered when pipes are tested.
Despite rigid standards, the P.E.S.C. lab still notices a steady increase in pipes malfunctioning. Marsberg emphasises that manufacturers cannot think that once their product is laid in the ground that they are off the hook. If a sample of a malfunctioning pipe is collected, it will be traced back to the manufacturer, and eventually sent back to the laboratory for further testing.
SABS and Certification Standards
Marsberg says there are many possible reasons as to why water infrastructure, such as pipes, is still failing. One such reason is the restructuring of the South African Bureau of Standards (SABS) in September 2008 to form SABS Commercial. This is a self-financing division within the SABS offering certification, testing, consignment inspection and other services to industry.
The SABS undertook certain regulatory functions which were separated from the organisation's standardisation and certification activities, on behalf of South Africa, through the promulgation of the new Standards Act and the 2008 National Regulatory Specifications Act. The former SABS regulatory division separated to form the National Regulator for Compulsory Specifications, a new organisation under the Department of Trade and Industry, explains valves and fittings company APVF director Ben Levitas.
Thereafter, the SABS became self-funding, with government funding withdrawn, essentially depriving South Africa of a standards-issuing authority, and stifling all efforts of municipalities to reduce water loss through leaking pipelines, Levitas alludes.
"Lack of funding meant that the SABS was unable to test any piping or fittings required for pipelines, resulting in plummeting profits."
Further, Engineering News reported last year that the SABS failed to renew expired licences of plastic pipes manufacturers and did not give an indication of when they would be renewed. The SABS also decided in 2015 to disallow partial product testing of manufacturers, and did not ensure that the testing facilities and laboratories conducting product testing were adequate and that employees carrying out the tests were competent.
"Issues with the SABS allegedly go back as far as May 2006, when the Southern African Plastic Pipes Manufacturers Association (Sappma) warned about the potential crisis, and attempted to address the numerous issues associated with SABS testing facilities. The SABS failed to take heed of the warnings and did not implement any programme to avoid the present crisis," says Sappma's attorney David Swartz.
The consequences have affected many industries. Swartz explained in June last year that Sappma assured its members that the association remains committed to finding the best solution for the industry, but that SABS developments continue to have dire consequences for manufacturers, the industry and South Africa.
"It will also result in diminishing product confidence in the marketplace, no measurable improvement in product and service quality and manufacturers not submitting their products to tender, as they are hindered in the sale and distribution of their products without the SABS mark of approval," Swartz says.
Moreover, Marsberg points out that uncertainty surrounding SABS divisions and a lack of testing facilities created an opportunity for manufacturers that were not certified to have their products considered and used in water infrastructure and engineering. "SABS's falling to the wayside in a broad sense opened up a lot of opportunities for free enterprise, but now it needs to be pulled back."
He adds that this would apply to the Chinese and Indian markets maintaining that South Africa is more than capable of producing competitive pipes products that are "head and shoulders above the rest". However, producing products such as these will require manufacturers to strictly comply with testing standards.
Marsberg was among the 35 experts who spoke at the Pipes XI Conference hosted by Sappma and held at the Emperors Palace convention centre last month.