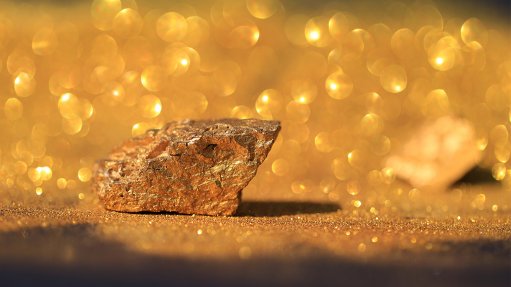 GOING FOR GOLD Nigeria's government looks to reignite flames under the mining investment banner to draw attention to its vast mineral and metal resources
Nigerian Mines and Steel Development Minister Olamilekan Adagbite highlighted the incentives being offered to investors in Nigeria's mining sector during a webinar on Driving Investment in the Nigerian Mining Industry in a Pandemic Situation, held in August.
Government intends to reignite investment in the country's mining sector and the webinar was a precursor to Nigeria Mining Week, which will be hosted virtually next week.
The webinar's objective was to draw attention to Nigeria's mining prospects in a country that is predominantly known for its oil and gas reserves.
Adagbite pointed out that many people did not know that Nigeria was a formidable mining jurisdiction prior to the discovery of its oil and gas reserves.
"Incentives are being put in place to create a positive environment for investors," he commented. Such incentives include tax holidays of between three and five years for investors.
Import duties will also be waived for any machinery or equipment suited to the mining sector. "Once we are satisfied that the machinery [will] be used in mining applications, the importer will be cleared of all import duties," he explained.
Adagbite added that there would also be "substantial investment in infrastructure" to incentivise mining in remote areas. Investment will comprise public–private partnerships and will facilitate concession arrangements and the engagements with the Road Trust Scheme.
The scheme will better equip roads and assist in developing a new, improved rail network.
Adagbite said the rail network would move along various mineral deposit borders, passing through Abuja, and meeting at Nigeria's largest seaport, the Lagos Port Complex.
These initiatives will form part of the country's 30-year infrastructure development plan.
He added that the Ministry was working with international financial institution the World Bank in developing financing, mining and economic clusters, which would be aligned to the country's economic corridors.
"It is our aim to promote that minerals are being mined, as well as beneficiated, within the country, adding to its economic growth."
Adagbite emphasised that the main aim was to have the minerals mined in Nigeria and processed within its borders, as mineral beneficiation would not only assist in boosting the local economy but also ignite further investment opportunities while increasing job opportunities.
It was noted that the Nigerian government also intends to investigate the possibility of offering 100% mine ownership to new investors.
Another enticement for investors is government's intention to increase and facilitate the "much-needed" supply of power to mines and processing facilities. Adagbite stated that this would become possible by extending Nigeria's already extensive gas pipelines.
Nigeria's Nasarawa state executive governor Ibrahim A Sule, also a panellist during the webinar, pointed out that one of the key challenges facing mining sector formalisation is the tension between local communities and the mining houses.
He explained that the ministry would mediate between communities and mines to ensure that these tensions were addressed and mitigated.
Nasarawa state government investment and economic planning special adviser to the governor Ibrahim Abdullahi highlighted that Nasarawa state would not only embrace the incentives being offered by government but also offer additional security to investors and help expedite shareholder engagement.
The webinar was also attended by mining consultant and Goldstone Resources executive director Emma Priestley who, among other positive notes, stated emphatically that "Nigeria has a very attractive framework, and is open for business".