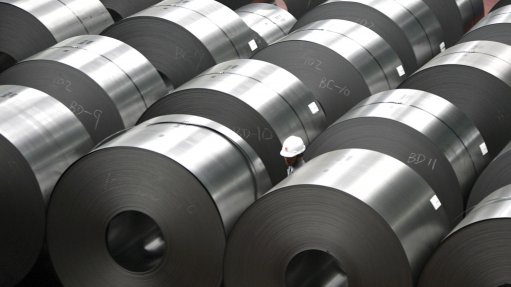 STEELY RESOLVE About 70% of the primary nickel produced in 2018 was used for stainless steel production
Photo by: Bloomberg
The growth of the nickel pig iron (NPI) market in Indonesia has led to the rapid increase of nickel mining operations in the country, says international metals and minerals consultancy Roskill senior analyst Olivier Masson.
Nickel pig iron, a low-grade ferronickel, was created in China as a cheaper alternative to high-grade nickel that is used for stainless steel production.
Indonesia has encouraged investment in NPI plants in the country in the past three to five years, after changes in policy by the Indonesian government in the past six years, says Masson.
"Five to six years ago, Indonesia mostly mined laterite ores for export to China, where it was processed into NPI. There was only limited domestic ferronickel and nickel intermediates production. In 2014, Indonesia banned the exports of unprocessed ores to stimulate greater local downstream processing of those ores. They've been successful, as many Chinese companies have decided to invest in NPI plants in Indonesia."
In early 2017, the Indonesian government revised its policy to allow for the limited export of unprocessed ores up to 1.7%. This has allowed for some ore exports to China, but Indonesia now has its own enhanced NPI capacity.
While Indonesian nickel producer PT Antam has also contributed to the growth of Indonesian nickel mining by producing higher-quality grades of nickel in the country, Masson maintains that China's start of production for NPI contributed significantly more to Indonesian mining.
With projects for further capacity to be built and commissioned this year, Masson states that Indonesia has become a major nickel mining country.
The Philippines Policy Changes
While Indonesia is a growing prospect in terms of nickel mining, Masson highlights the Philippines as another major nickel mining country, despite ongoing legislation issues.
In 2017, newly elected Philippines President Rodrigo Duterte appointed Regina Lopez as environment secretary.
Lopez initiated an audit of the mining industry in the country and recommended the suspension or closure of several mines in the Philippines, many of which were nickel mines. This also increased the price of nickel dramatically at the time.
Since then, Lopez has been replaced by Roy Cimatu. While this provided relief for the mining sector, many mining operations are still not allowed to operate.
"Miners have been allowed to ship their ore stockpiles, so in terms of actual supply to market, they've been keeping up production. The upshot, however, is that there hasn't really been a lot of new growth in mining production from the Philippines," Masson states.
He highlights that should these problems be dealt with, the Philippines will remain a major nickel mining country, despite a lack of refined, primary nickel production such as that of Indonesia.
Nickel Demand
The stainless steel sector is the greatest market for primary nickel and about 70% of the primary nickel produced in 2018 was used for stainless steel production, says Masson.
"That's a share that's been rising because China tends to produce stainless steel using NPI, and although it's a lower-grade nickel, it's still a primary-produced nickel.
"China produces more than half of the world's stainless steel production, mostly using primary nickel, which explains why the share has increased."
He also highlights that Chinese stainless steel group Tsingshan's stainless steel plant in Indonesia, commissioned last year, is also heavily reliant on NPI, since it is produced on site. While most stainless steel plants outside China and Indonesia obtain a high proportion of their nickel requirements by remelting scrap, mills in China and Indonesia rely to a far greater extent on primary material.
The stainless steel market will continue to be a major market for primary nickel in the decades ahead, he adds.
Roskill expects the stainless steel market to continue growing, thereby boosting demand for the primary nickel used in stainless steel production.
Masson believes that it will be fed mainly through production increases in NPI, with more production in China and Indonesia.
"We do expect a modest increase in scrap usage by mills in China as more scrap becomes available. If you look back 20 years, China was building and, at some point, they will start demolishing and rebuilding, and stainless steel-containing products will reach end-of-life, making more scrap available."
Despite the constancy of the stainless steel market, Masson believes that the share of the stainless steel markets will decrease as a result of the growth of the battery industry. This stems from market growth from new applications for batteries, particularly in electric vehicles.
"We are going to see a change in the market share in the years ahead. The market share for batteries will grow, which means that the market share for stainless steel will fall," he says, maintaining nonetheless that, despite this change, the stainless steel sector will remain the biggest market for nickel by a significant margin.
Masson notes that Roskill expects prices to increase in 2019 and 2020, as it expects the market to remain in a deficit for this period.
"I think for the outlook in the next couple of years, the nickel price should see some support from the expected market deficits," he concludes.