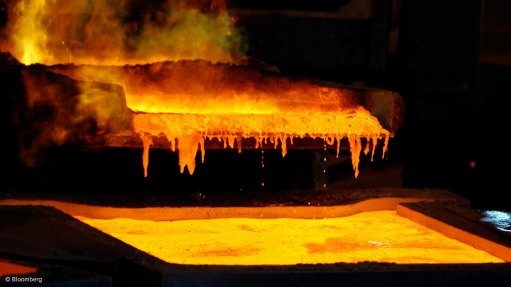 Photo by: Bloomberg
PERTH (miningweekly.com) – Shares in ASX-listed Nickel Industries were trading more than 13% higher on Friday after the company announced plans to raise A$943-million in a conditional share placement and a collaboration agreement over its Excelsior nickel/cobalt (ENC) project.
Nickel Industries on Friday unveiled a conditional placement to PT United Tractors, through its subsidiary PT Danusa Tambang Nusantara (DTN), priced at A$1.10 a share, giving DTN a 19.99 interest in Nickel Industries.
The conditional placement will comprise 857-million fully paid ordinary shares, with the offer price representing a 27.2% premium to Nickel Industries' last trading price. The share placement will be subject to shareholder approval, and the completion of the PT Huayue nickel cobalt (HNC) placement before the end of September.
Additionally, Nickel Industries has also struck a collaboration agreement with DNT, under which DNT will acquire a 20% equity interest in the ENC project, reducing Nickel Industries' investment in the project.
The collaboration agreement is subject to a number of conditions precedent, including the completion of a feasibility study and Nickel Industries making a final investment decision (FID) to proceed with the project.
Nickel Industries in January this year announced a multi-faceted electric vehicle battery supply chain strategic agreement with Shanghai Decent, which included a $25-million option for the construction of a nickel sulphate and electrolytic nickel plant using the high-pressure acid leach (HPAL) process. The project is the ENC project.
Expected yearly production from the ENC project is 72 000 t of contained nickel equivalent, and Shanghai Decent will provide a "capex guarantee" whereby total construction and commissioning costs will not exceed $2.3-billion. In addition to producing a mixed hydroxide precipitate (MHP), the project will be capable of producing both nickel sulphate and nickel cathode, differentiating it from the current generation of HPAL plants currently being constructed across Indonesia, and providing Nickel Industries with significant operating flexibility through the cycle.
The two companies are currently working together to complete a feasibility study for ENC ahead of an FID, with construction expected to commence during the December 2023 or March 2024 quarters or anytime earlier that both parties agree, and commissioning to commence no later than 24 months thereafter.
Before the deal with DTN, Nickel Industries would have held a 60% to 70% interest in the ENC project, with Shanghai Decent to hold the remainder.
Nickel Industries told shareholders on Friday that the collaboration agreement with DTN meant that the partners had access to United Tractor's local knowledge and operational expertise, while also allowing for an immediate capital injection. The collaboration agreement could also mean the potential expansion for the ENC project, potentially doubling production in a Stage 2 expansion to 144 000 t/y of nickel equivalent.
The Stage 2 expansion will be subject to a positive FID by the Stage 1 shareholders.
"We are delighted to welcome DTN and the wider United Tractor Group as a strategic shareholder of the company. We believe that benefits of collaboration with United Tractor are significant for Nickel Industries and will enable us to partner with a large and influential Indonesian mining company to jointly pursue growth opportunities in Indonesian Nickel, of which we believe there are many," said Nickel Industries MD Justin Werner.
"United Tractor with its significant mining, power and infrastructure development and operating experience in Indonesia, substantial financial resources, and long-term return focus, will add substantial value to us in helping to achieve the board's vision to build Nickel Industries into the leading global diversified nickel company.
"We are also delighted to report that Shanghai Decent has informed Nickel Industries of its intention to increase the expected production of Stage 1 of the ENC project by an additional 10% from 67 000 to 72 000 metric tons of contained nickel equivalent with no reciprocal increase to the capex guarantee, further reducing its capital intensity and enhancing the project's economics."