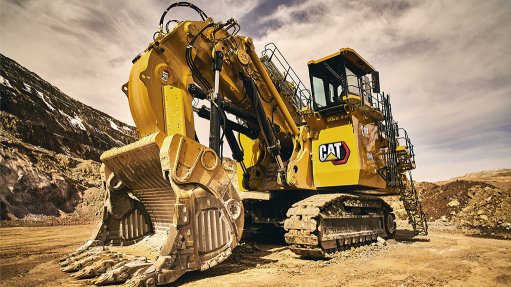 BUCKET-LOAD OF IMPROVEMENTS The new Cat 6060 features updated engines, improved hydraulics, heavy-duty structures and undercarriage, Cat electronics and a state-of-the-art cab
Original-equipment manufacturer Caterpillar opened orders for its next-generation Cat 6060 hydraulic mining shovel late last year, although none have been sold in Africa yet.
Caterpillar hydraulic mining shovels senior product application specialist Dirk Tegtmeier explains that there are many fleets of the legacy model and other 6060 models in Northern, Central and Southern Africa.
"While the next-generation Cat 6060 offers significant improvements in durability, reliability and cost-per-ton, customers running the predecessor model can benefit from a high level of component commonality when they add the new model to their existing fleets," he tells Mining Weekly.
One of the key features of the new Cat 6060 is the improvement of the hydraulic system, which allows for fuel savings of up to 15% for the face shovel version, and up to 5% for the backhoe configuration, when compared to the previous version.
Tegtmeier notes that customers on the African continent predominantly operate Cat 6060s in the face shovel configuration.
The next-generation Cat 6060 hydraulic mining shovel features multiple design enhancements and new components that improve machine performance, durability, serviceability and operator comfort.
It is also fully integrated into Caterpillar product support systems to ensure efficient Cat dealer servicing.
The 600-t class mining shovel has a bucket payload of about 61 t per pass in the face shovel and backhoe configurations. The Cat 6060 is an efficient four-pass match with the Cat 793 mining truck, and a five-pass match with the Cat 794 AC mining truck.
Twin Cat 3512E engines have been improved for higher performance, better fuel efficiency and increased durability.
For North America, these engines are equipped with a maintenance-free diesel oxidation catalyst emissions control system, comply with US Environmental Protection Agency Tier 4 final regulations and do not use diesel exhaust fluid.
Tegtmeier says the African version of the new Cat 6060 does not require an emissions control system, but is optimised for improved fuel consumption.
The updated engine design boosts reliability and extends time between overhauls by 10%. The efficient engine and improved hydraulics allow for 10% to 15% better fuel efficiency, compared with the previous face shovel model, with 3% to 5% more efficiency for the backhoe configuration. For reduced maintenance, engine oil and filter change, intervals have been doubled to 1 000 hours.
Tegtmeier adds that structural, undercarriage and slew ring upgrades will help increase uptime and productivity, while lowering the cost per ton. To boost longevity, the Cat undercarriage features heavy-duty rollers, idlers and tracks, along with a revised track tensioning system.
According to a statement from Caterpillar, the superstructure frame, face shovel and backhoe attachment structures have been redesigned to reduce structural repair and extend service life through increased plate thicknesses and geometrical improvements.
In addition, the slew ring design extends component life with a triple-race roller bearing and sealed internal gearing.
The Cat 6060 also features a new, modernised cab and operator station, which features high visibility provided by a large floor window, expansive windshield and side windows. Unrestricted lines of sight to the crawler tracks and pit floor are designed to aid the operator when repositioning the shovel and loading trucks.
The pneumatically cushioned operator seat can be heated and ventilated. It has integrated joysticks and is multi-adjustable. The cab design also includes two additional seats, including a full-size seat and laptop desk for a trainer, as well as a fold-up seat for an observer. Caterpillar states that the three-seat cab design is the first of its kind in this size class of shovels.
Moreover, improved sound suppression on the power module is aimed at keeping spectator sound levels low, while the sound-suppressed cab should provide a quiet working environment for the operator.
Enhanced motion control comes standard on the shovel – the first of several features within Caterpillar's Operator Assist software suite – and improves machine controllability and loading efficiency while reducing linkage and cylinder mechanical contact.
The machine's five-circuit hydraulics design allows for simultaneous control over two cylinder motions, two travel motions, swing-to-boost digging and loading efficiency.
Serviceability and Technology
The next-generation design is aimed at improving service and maintenance efficiency because of the increased room inside the service compartment, as well as easier ground-level accessibility to the service station.
The integration of Cat hoses in the design allows for local hose sourcing, while improved hose and component organisation further reduces machine downtime.
Sensors located throughout the Cat 6060 monitor operating data, record faults and provide audible and visual notifications of issues to the operator. The Caterpillar Product Link Elite software is included as standard for the first time on the 6060, allowing for data communication for remote machine health monitoring.
The Cat 6060 is immediately compatible with Cat MineStar Solutions, which is a suite of mining technologies geared to enhance mine safety, improve efficiency and reduce operating costs.
In addition to the next-generation diesel-powered 6060, Caterpillar continues to offer the electrically powered 6060 AC face shovel for mines that prefer such machines.