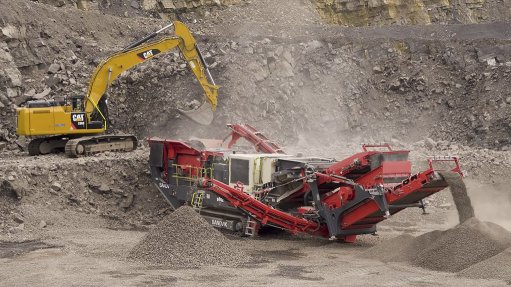 FLEXIBILITY The optional modular hanging screen system enables the QI442 crusher to operate in an open or closed circuit
Photo by: Twitter
Mining equipment supplier Sandvik Mining & Rock Technology has extended its 2 Series product offering with the launch of the QI442 track mobile impact crusher, which includes the newly developed CI621 Prisec Impactor.
"Like previous Prisec impact crushers, the CI621 can be configured to work as either a primary or secondary machine, while the two hydraulically assisted curtains can be readily adjusted to produce a range of high-quality product sizes," notes a statement published by the company in June.
The CI621 includes further enhancements, primarily focused on increased safety during maintenance and serviceability. These include a new rotor position and locking device, new hammer locking wedges for quicker removal and fitting, and a new wedge removal tool. The rotor bearings have also been upgraded for easier assembly and clearance setting, in addition to an improved sealing system and a greater range of adjustment in curtains.
One of the benefits incorporated into the QI442 is the optional modular hanging screen system.
"Recently launched on our mobile cone crushers, this system is interchangeable and offers the flexibility for the crusher to operate in an open or closed circuit. The design enables set-up in less than 30 minutes and can be fitted without the use of additional lifting equipment. The patent- pending hanging screen option delivers multifunctionality as a one, two or three-way split screener, as well as a highly productive and efficient impact crusher," says Sandvik.
The double-deck hanging screen enables the machine to produce two screened products and recirculate the oversized material back into the feed conveyor. The oversize conveyor may be hydraulically rotated to 90º for material stockpiling of up to three products on the floor, or to 180º for removal.
The QI442 comes standard with the Sandvik My Fleet remote monitoring system.
"Through the collection and accurate monitoring of an array of parameters, this facilitates accurate production forecasting, ensuring that the most efficient use is obtained from equipment, thereby increasing return on investment," states Sandvik.
The QI442 comes equipped with a range of customer-focused features designed to improve the return on investment and the operator experience. A prescreen is fitted to ensure maximum scalping capability and to prevent any undersized material passing through the impactor, thereby enhancing throughput and reducing wear costs. This also allows a specific sized product to be produced from the natural fines conveyor.
The prescreen also has a choice of grizzly or punch plate top deck and mesh bottom, providing the flexibility to suit any application, while the underpan feeder drastically reduces spillage generally associated with impact crushers.