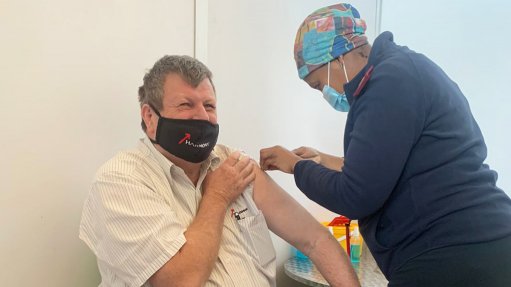 Harmony CEO Peter Steenkamp receiving his Covid-19 vaccination at the Medscheme Health Facility in Florida, Roodepoort.
JOHANNESBURG (miningweekly.com) – Harmony CEO Peter Steenkamp, who was elected a Minerals Council South Africa VP on Wednesday, braved Thursday's early morning chill to receive his Covid-19 vaccination at the Medscheme Health Facility in Florida, Roodepoort.
Steenkamp, 62, qualified to do so in terms of the Department of Health's second phase of the vaccine roll-out programme, which has prioritised senior citizens over the age of 60 and essential health workers to receive the vaccine.
The process requires qualifying citizens to register prior to going to any vaccination site, which is allocated according to geographical location.
With South Africa now at the beginning of phase 2 of the vaccination rollout, registration for the vaccine can be made online at vaccine.enroll.gov.za., through WhatsApp at 0600 123456, going via SMS by dialling *134*832#, or calling the Covid-19 hotline 0800 029 999.
"The pandemic is still with us and with infections on the rise again due to the third wave," Harmony reminded in a release to Mining Weekly, in which the JSE-listed company urged all employees to continue to wear masks, use hand sanitisers, observe social distance, avoid large crowds in public spaces, and wash hands regularly with soap and water.
At its annual general meeting, Minerals Council South Africa cited the pandemic as being its primary focus since the beginning of 2020, with council members combatting the virus in close cooperation with national and international experts.
As of Monday, 144 649 mining industry employees had been tested, representing a testing rate of 29.6% of the workforce, compared with 18.9% in South Africa as a whole. Deaths as a proportion of positive cases, at 1.1%, are a third of the national average.
Nonetheless, 401 mining industry employees have succumbed to Covid complications, including Minerals Council board member Shadwick Bessit.