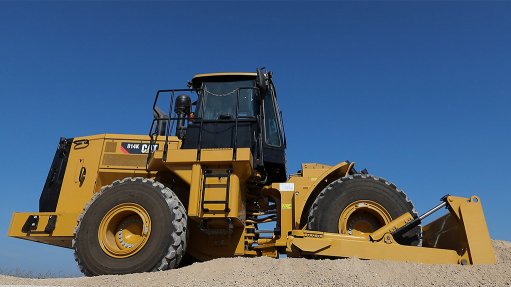 PRODUCT AVAILABILITY The new Cat 814K wheel dozer is currently available for worldwide orders
Global mining and construction equipment manufacturer Caterpillar has released the new Cat 814K – a wheel dozer that delivers "operating comfort, efficiency and serviceability advancements".
The wheel dozer's features include a new, sound-suppressed cab, an efficient power unit and transmission drive, as well as a centralised service station configuration to drive machine uptime and operator productivity to "new levels".
Caterpillar says the wheel dozer's rugged structure is designed to achieve multiple life cycles under tough operating conditions, with the Cat 814K delivering high production operation in applications, such as utility work at mines, heavy civil construction backfilling and grading work, as well as ground preparation and subbase work on airport and commercial projects.
Product Features
The Cat 814K's upgraded cab design makes the operator's workspace more comfortable and provides for more efficient machine operation. Isolation cab mounting and air-suspension seat safeguard against machine vibration feedback to the operator. The quiet cabin reduces operating noise levels to 71 dB, compared with the 78 dB of its predecessor, with a sound-suppression package option to lower sound levels to 70 dB.
Cab entry/exit is facilitated through integration of the new fold-up Steering and Transmission Integrated Control System (STIC) armrest. STIC delivers maximum machine responsiveness and control, as well as smoother, faster cycles, while minimising operator movement to reduce fatigue. Removal of the steering wheel console significantly increases operator space and improves forward visibility of the work area.
The wheel dozer further offers a newly upgraded touch screen information display for intuitive machine control. The new panel displays critical machine operating data, such as system temperatures, fuel use and machine hours. The dozer's new Vital Information Management System (VIMS) allows technicians to connect directly to the machine to access a range of sensor information and expanded machine data.
This allows managers to create productivity reports, identify operator training opportunities, see data logging of machine parameters and diagnostic codes, and monitor machine health. The Caterpillar Product Link offers remote access of machine operating data through the easy-to-use VisionLink interface to facilitate fleet management.
To aid in performance and efficiency advancements, the new Cat 814K is powered by the Cat C7.1 ACERT engine that meets US EPA Tier 4 Final and EU Stage IV emission standards, or the Brazil MAR-1 emission standards equivalent to Tier 3 and Stage IIIA to meet global emissions standards. To avoid unnecessary idling, the wheel dozer features Engine Idle Shutdown and Auto Idle Kickdown functions, while the new field-proven engine boasts lower fuel consumption than previous models.
Load sense control hydraulics also provide the on-demand hydraulic flow required by the implement and steering system to further improve fuel efficiency and deliver increased rimpull.
Caterpillar adds that the wheel dozer also offers four forward and reverse speeds to match application demands and boasts the best-in-class Cat planetary powershift transmission, designed specifically for the most demanding mining applications.
"Through the Cat-exclusive Advanced Productivity Electronic Control Strategy (APECS), the new 814K delivers consistent and smooth shifting, even when under load. APECS results in no loss of momentum on slopes during gear shifts, so the dozer climbs grades more efficiently and with less fuel burn."
Additionally, the two Cat blade design options offer rugged durability and excellent dozing and rolling characteristics. The 2.84 m3 straight blade delivers high production dozing on stockpile material and general earthmoving projects. Alternatively, the 10.5 m3 coal blade provides precise and productive dozing, while helping to retain load control with increased capacity for lighter materials.
The Cat 814K includes a host of features that reduce service time to maximise machine uptime, as the machine's new centralised ground-level service area provides quick access to the master disconnect switch with integrated lock-out/tag-out, DEF purge lamp for Tier 4 Final/Stage IV engines, circuit breakers, emergency fuel shutoff switch and jump start receptacle. Grouping of grease points for steering, hitch and rear axle trunnions, along with easily visible fluid sight gauges, reduce the time spent on daily maintenance requirements.
By providing the operator with real-time operating data, the VIMS system notifications alert operators and technicians of machine issues, so they can quickly address machine issues before experiencing a significant downtime event. The machine's new high-efficiency, hydraulic filtration results in cleaner hydraulic oil to increase component life and extends the oil inspection requirement by 50%, from 2 000 h to 4 000 h.
The wheel dozer is currently available for worldwide orders, with the first machine shipment planned for last month.