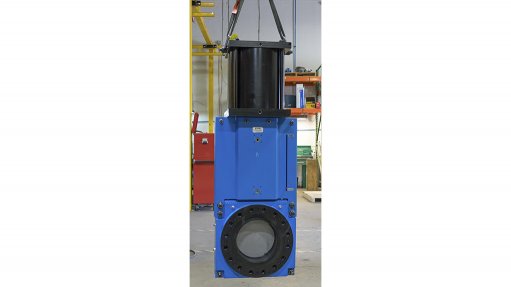 TAILINGS CONTROL The movement of tailings to a tailings dam can be facilitated through a pipeline with robust valves such as the DFC SKG-HP valve
Although South African company Dynamic Fluid Control (DFC) has only soft launched its new slurry knife gate high-pressure valve, the SKG-HP, it has been well received by clients.
Clients intend to use the valve in highly corrosive applications such as moving tailings from a processing plant to a dam or storage facility.
"We introduced the valve to our range without a formal launch, owing to the Covid-19 pandemic, and have seen great results," enthuses DFC CEO Tumi Tsehlo.
He attributes the new valve's popularity to the valve's rigid features, which include a packingless design, replaceable elastomer sleeves and its being wholly enclosed, making it suitable for severe slurry applications.
"The fact that the sleeves can be replaced without having to disassemble the valve means any care and maintenance can be conducted quickly," he enthuses.
Tsehlo also suggests that, given the current traditional transport methods of trucking tailings to a facility, alternate methods need to be considered.
Mining production is essentially carbon intensive and one of the focus areas for companies has been to transition to lower-carbon alternatives.
"Last year, diversified miner Anglo American announced it was working with partners to trial hydrogen-powered trucks at its facilities," he comments.
A fleet of large dump trucks travelling back and forth, carrying heavy loads of minerals and ore, contributes significantly to greenhouse-gas emissions on surface mining operations.
In addition to carbon dioxide (CO2), they also produce methane and nitrous oxide from the tailpipe. While the emissions of these gases are small when compared with the amounts of CO2 released, they have a higher warming potential than CO2.
"Trucks and automobiles produce over 70% of the total road transport emissions in South Africa. A truck burning 400 ℓ of diesel produces 1 t of CO2 which would take a typical hardwood tree over 40 years to sequester."
He stresses that, while the figures are open to debate, the value of pipeline transportation is not, and it must be recognised for its possible contribution to 'greening' the mining industry.
A pipeline transportation system is only as good as the valves it uses, as they control and manage the flow of the medium, says Tsehlo.
However, local valve manufacturers are garnering an undeserving reputation, owing to issues caused by cheaper imports and improper installations by ill-equipped artisans.
DFC, which manufactures a variety of valves that are key to surface operations, including for copper, iron-ore and gold miners, believes that the widespread adoption of pipelines for material conveyance is hindered by opportunistic players who import cheaper substandard valves.
Most of the time these valves do not function as intended because they are installed without studying the piping system design or are poorly located to tackle flow rates and, in many instances, are not suitable for the application.
Properly sized and installed valves deliver optimum system performance with minimum maintenance. "Any deviation from this could cost millions of rands in downtime," states Tsehlo.
He adds that the trinity of 'pipelines, valves and pumps' working in unison can progress environmental protection on site, which is a critical action point for the mining sector, and which will be highlighted at this year's Joburg Indaba, which is to be held virtually October 6 and 7.
Nitty Gritty
Tsehlo explains that the full port bore of the flanged, bi-directional SKG-HP valve is formed by two heavy-duty elastomer sleeves, one on either side of the gate.
The roundness of the sleeve is maintained by an embedded stiffener ring near the sealing face.
When closed, the gate progressively separates from the sleeves and once fully closed, forms a bubble-tight seal with the upstream sleeve.
The top assembly consists of a heavy-duty frame and two cover plates that enclose the gate, spindle and clevis to protect these components from slurry splatter.
The cover plate design allows for the easy mounting of proximity or limit switches and makes provision for lockouts in the open and closed position using open and closed indicators.
The top bracket accepts manual, pneumatic or electric actuation for easy conversion in the field.
Tsehlo concludes that DFC has one of the largest installed bases of mineral processing valves globally and hosts manufacturing facilities in South Africa, Finland and the US.