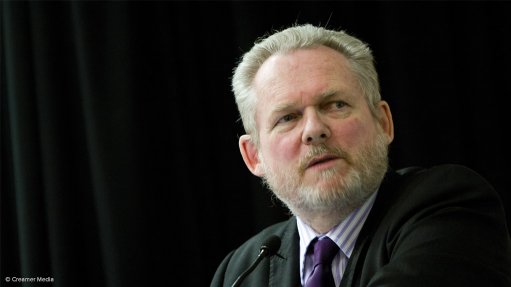 Trade and Industry Minister Dr Rob Davies
Photo by: Duane Daws
South Africa's Trade and Industry Minister Dr Rob Davies views the easing of export-tax restrictions on mineral products in the recently agreed Economic Partnership Agreement (EPA) as an important improvement over the Trade, Development and Cooperation Agreement (TDCA), which has governed trade relations with the European Union (EU) since 2004.

Speaking at a briefing in Cape Town on Monday following the "initialling" of the EPA by the trade negotiations in Pretoria on July 15, Davies said the EPA offered additional "policy space" for South Africa and the other Southern African Development Community (SADC) group signatories to support their domestic mineral-beneficiation aspirations.

The initialling effectively concluded the often fraught, decade-long EPA negotiations between the EU and the SADC EPA group, comprising Angola, Botswana, Lesotho, Mozambique, Namibia, Swaziland and South Africa. However, not all SADC participates would be signatories, as least-developed countries, such as Angola, still received duty-free and quota-free access to the EU under the 'Everything but Arms' programme.

"The TDCA had a very restrictive provision on any new export taxes – and the only one that was in place at the time was the diamond levy – or measures of equivalent impact."

The EPA, by contrast, made no reference to "equivalent impact" and "we have secured an understanding that we are able to impose export taxes, within certain parameters, to a certain number of [additional] mineral products".

Davies stressed that no decision had been taken to impose new export taxes, but South Africa and Namibia, in particular, had been keen to safeguard that option.

"Africa has set itself the ambition of industrialising . . . and one very important tool of that is that we need to add more value to our mineral products and that we need to create a competitive advantage for manufacturing based on the fact that we have mineral products available in our markets at prices that are competitive compared with world-market prices," Davies explained.

He acknowledged that philosophical differences persisted with the EU on the matter and that South Africa did not secure everything it had sought in the area of export-tax concessions. But the new EPA clause did offer an instrument to "support a transformation of our economies, to move up the value chain and become much more of an industrialised continent".

The concession came as South Africa again moved to review proposed amendments to the Mineral and Petroleum Resources Development Act, including ways of fostering higher levels of domestic mineral value addition, or beneficiation.

Other EPA improvements outlined by Davies related mostly to improved market access for 32 agricultural products.

The country's quota for duty-free wine exports, for instance, would be increased from 47-million litres to 110-million litres. In addition, for the first time, 150 000 t/y of South African sugar would be able to flow into the EU duty free, 50 000 t of which could be refined sugar. It would also be able to export 80 000 t/y of ethanol to the EU duty free and had received improved access for canned fruit.

South Africa's negotiators, led by Xavier Carrim, had also been able to extend the season for duty-free citrus exports by six weeks. However, that concession was currently threatened by actions being taken by the EU against South African consignments said to be infected with 'citrus black spot'.
CITRUS STRUGGLE
A clearly incensed Davies said he would need to be convinced that the recent interception by the EU of South African citrus was driven by a desire to protect plant health, rather than EU citrus farmers.
"We are the biggest exporters of citrus into the EU, simple as that. And we don't see the same regime being applied to other citrus exporters," Davies said, adding that with up to 80 000 South African jobs at risk "we will fight this thing".
It was further evidence, he added, that protectionism was increasingly arising not in the form of tariffs, but rather in the form of technical barriers, such as sanitary and phytosanitary measures.

South Africa's main concession in the EPA negotiations, meanwhile, related to an agreement to negotiate a protocol on geographic indications (GIs), which are place names used to identify products, such as Champagne, Feta, or Roquefort.
For its part, South African would seek to protect the names of specialised South African agricultural products, including a number of wine names, as well as Rooibos, Honeybush and Karoo Lamb. It had also been given latitude to add additional GIs in future.

Carrim said it was the GIs concession that had eventually unblocked the negotiations, which had all but stalled towards the end of 2007. He also stressed that South Africa was not the first to make such an allowance, citing similar moves by Australia, Chile and Canada.

Overall, Davies said the EPA represented a commercial improvement over the TDCA, which he hoped would begin translating into a better trade performance.
South Africa's exports to the EU, he noted, had not recovered to the €22-billion level achieved in 2008 and had been only €20-billion in 2012. By contrast, EU imports to South Africa increased to €25-billion in 2012, from €22-billion in 2008.
The EPA text had been formally "frozen" and would now be subjected to a two-month "legal scrubbing" process.
Carrim anticipated that the deal would be presented to South Africa's Cabinet for approval in either September or October, following which it would be submitted to Parliament for ratification, which was likely to take place in early 2015.
He expected similar timelines in the rest of SADC, but said that the EU had indicated that it required at least eight months to translate the agreement and have it ratified.
"Once ratified, the agreement may be signed and it will enter into force once all parties have concluded their own respective national approval processes."