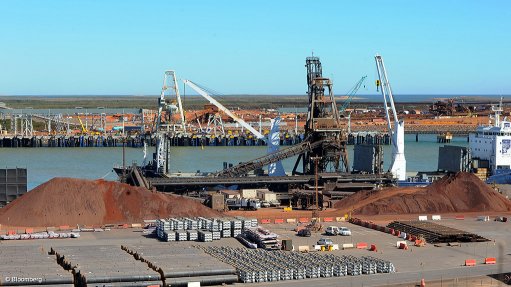 Photo by: Bloomberg
PERTH (miningweekly.com) – New trade data from the Australian Bureau of Statistics (ABS) has shown that Australia's resources sector had posted another record year of exports, with total resources and energy exports worth a record A$414-billion, in seasonally adjusted terms, in the 2021/22 financial year.
This meant that resource and energy trade was up 38% on the previous 12 months.
Resources contributed 69% of Australia's total export revenue and were the main driver of the country's highest ever trade surplus recorded, at A$136-billion.
The ABS trade data noted that iron-ore accounted for A$134-billion worth of trade, which is down 12% on the previous year, while coal exports were worth A$109.7-billion, up 180% on the previous year, and liquefied natural gas (LNG) exports were worth A$70-billion, which represents a 130% increase on the previous year.
New records were recorded for aluminium, alumina and bauxite, which contributed A$14.4-billion in exports up 20% from 2021, as well as for copper, which was up 8% to A$12.5-billion.
Gold export revenue was up 9% to A$25.8-billion.
"The results are a tribute to more than a quarter of a million Australian workers in the resources industry, who have helped ensure Australia remains a stable and reliable supplier of resources and energy amidst the global turbulence caused by Russia's invasion of Ukraine and from the ongoing Covid pandemic," Minister for Resources Madeleine King said.
She said the data highlighted in particular how Australia had become a world leader in the supply of critical minerals.
"Australia's rich endowment of critical minerals and rare earths will help us and our global partners meet our global ambitions to reach net zero emissions by 2050."
King said industry figures showed the resources sector supported more than one-million jobs directly and indirectly across Australia, and paid more than A$43-billion in company tax and royalties in 2020/21, supporting federal and state government spending on key services.
The Minerals Council of Australia (MCA) said that the incredible record growth again demonstrates the importance of Australia's mining industry to the nation. It is the backbone of the Australian economy. And it has delivered at a time when it mattered most during the pandemic.
"The industry in Australia continues to pay the highest wages on average, approximately 30% out of total company tax, delivers the most export revenue and is critical to supporting regions and communities, providing 1.1-million jobs in the mining industry, the mining equipment, technology and services sector and their supply chains," MCA CEO Tania Constable said.
"The record exports come after a record tax contribution in 2020/21 with a combined A$43.2-billion in company tax and royalties, a 16% increase from the A$37.3-billion in the previous period.
"This export and tax performance should not be taken for granted. Ongoing success for the industry and the community will heavily depend on a comprehensive policy environment that supports all businesses.
"More needs to be done to attract investment needed for new projects to meet the growing demand for minerals for everyday living and to drive the energy transition to net-zero emissions.
"Globally competitive tax rates, workplace flexibility and increased government funding for pre-competitive exploration programs are all essential to mining's long-term future.
"And when the mining industry is strong, all Australians benefit," Constable said.