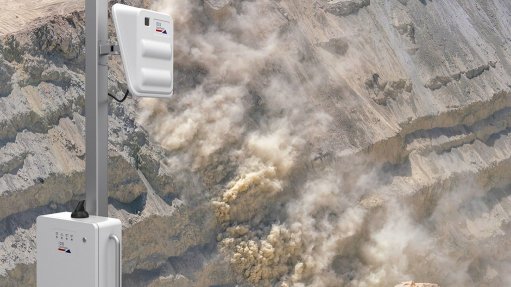 ALL-SEEING EYE Not one stone falls without RockSpot seeing it first
The new RockSpot radar of Italian manufacturer IDS GeoRadar, a subsidiary of sensor and software group Hexagon, can locate, track and signal alerts on the slightest rockfalls and slope failures as they happen in real time.
Introduced to the global market in the second quarter of this year, the RockSpot is designed to fill the gap in critical monitoring, with its aiming to be an extension of – rather than a replacement for – existing interferometric radars and laser scanners that may already be on site, providing the user with information that was not possible to record before.
Most monitoring solutions currently available are based on standard interferometric technology, which involves the measurement of wave interference as it interacts with a slope and from which data can be extracted, recorded and interpreted.
Standard interferometric radars can provide early warning of slope failures because they measure slope displacements that can be precursors to rockfalls.
Conversely, laser scanners – used for volume estimation and three-dimensional reconstruction – can help to infer the occurrence of a rockfall after the event, enabling geotechnicians and mine managers to compare differences in volumes measured before and after.
The RockSpot, however, uses doppler technology to fill the gap between standard interferometric radar and laser scanners by monitoring, analysing and tracking rockfalls as they are happening.
It also has a much higher sensitivity than most existing monitoring solutions, having been designed specifically to detect the events where a slope passes from stable to unstable conditions very quickly.
"The RockSpot detects rolling or falling rocks over a slope that a standard interferometric slope monitoring radar is unable to detect just because the range of detectable velocities by interferometric radars can extend only up to velocities of tens of centimetres per hour, measuring the deformation before a failure but not the collapse itself," IDS GeoRadar Africa senior sales manager Colin Thomson tells Mining Weekly.
The radar instead measures and provides alerts about the actual moving object while it is happening, tracking the runout and trajectory of rocks that can move up to velocities of metres per second, he adds.
Geotechnicians and working crews receive alerts for rockfalls, with such events recorded in a comprehensive statistical database stored on the client's site network or on a cloud-based server.
The RockSpot also detects and records line-of-sight velocity, travel path, surface size of rockfall, time of detachment, source and deposit area.
All relevant information collected for the measured rockfall event can then be visualised to create comprehensive and empirical hazard zonation models.
"It is not only a safety-critical device – it is also useful in post analysis while designing and dimensioning catch benches, exclusion zones and other safety barriers, thereby making operations more efficient," Thomson points out.
Real-time alerts can be customised extensively because of the RockSpot's high sensitivity. To avoid unnecessary alerts being issued, an advanced algorithm enables the device to accurately distinguish rock movements from other moving objects such as haul trucks, animals and people.
The radar unit provides high-resolution coverage, with angles of up to 40º vertically and 80º horizontally. This coverage can be doubled with a second radar antenna connected to a single control unit.
Depending on the requirements of the user, the RockSpot can be connected to third party on-site alarms, such as sirens, automatic road closures or other alert devices, therefore allowing for easy integration with existing safety systems on site.
All data processing occurs on site to ensure efficiency.
Users can access the detailed output data from the GeoCloud platform, IDS GeoRadar's proprietary Web-based application that has been optimised for mobile devices, with the possibility to create multiple users with different levels of access.
The platform provides users with immediate access to all important data relative to any rockfall events. An embedded global navigation satellite system enables slope movements to be georeferenced and overlaid on the site map automatically. The radar map is also available in GeoCloud
.
The device is rain-, snow- and dust-resistant. Further, no moving parts allow for lower maintenance costs.
Although IDS GeoRadar has a significant African footprint, with radars deployed all over the continent, the company has yet to put the RockSpot on African soil – simply because it has just been launched.
"We are definitely planning on bringing the RockSpot to the African mining sector. Our slope-monitoring radars are already widely used by mining companies on the continent and we foresee a significant interest in the RockSpot radar as well," concludes Thomson.