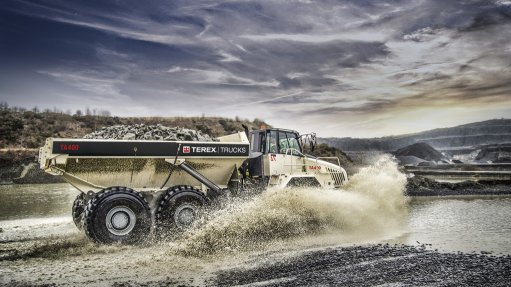 GENERATION 10 TA400 Terex Trucks will launch the articulated dump truck at Hillhead 2016
Dump truck producer Terex Trucks, mobile crushing, screening and recycling equipment manufacturer Terex Finlay and washing equipment supplier Terex Washing Systems (TWS) will preview, launch and showcase a range of equipment and machinery for the mining and quarrying industries at Hillhead 2016, which will be held at building materials group Tarmac's Hillhead quarry, in Derbyshire, in the UK, from June 28 to 30.
With a 38 t capacity, the Generation 10 TA400 articulated dump truck is the largest in Terex Trucks' articulated range of haulers and is capable of overcoming the most demanding operating conditions. The European Union Stage IV-compliant engine enables customers to benefit from lower emissions, increased fuel efficiency and lower operating costs.
The TA400 will be showcased in the three-day Hillhead event's live demonstration area, while its predecessor, the TA300, will be on show at the company's exhibition stand. The TA300, which was designed with operator comfort foremost in mind, has a 27.2 t capacity and is a proven performer in the toughest of conditions, says Terex Trucks.
The company will join forces on the stand with its UK supplier of construction equipment TDL Equipment to demonstrate the close working relationship between the two companies. TDL's experts will present alongside Terex Trucks specialists and explain how the company is focusing investment in areas that have a positive impact on customers' ability to increase uptime and production efficiency.
"We're pleased to be back at the UK's premier quarrying, construction and recycling exhibition supporting our UK dealer," says Terex Trucks GM Paul Douglas.
Terex Finlay Offerings
Terex Finlay will officially launch its 674 three-deck inclined screen at Hillhead 2016, as well as preview its new I-140RS impact crusher ahead of its launch later this year.
The 674 inclined screen is a small to midsized inclined screen that has been specifically developed to appeal to contract crushers and small-scale owner-operators looking to produce four products from one platform. The screen has been developed to enter new space in the mobile screening market, explains Terex Finlay.
"We're excited by the buzz and interest that has been expressed in this new model and expect it to be a real star of the show," comments Terex Finlay sales and marketing director Nigel Irvine.
The I-140RS impact crusher features an onboard detachable sizing screen and recirculation conveyor for producing products to specification. For applications not requiring use of the recirculation system, the conveyor can be slewed into positon and used as a stockpile conveyor. Used in this configuration, the machine can produce three products from one platform.
Terex Finlay's J-1480 jaw crusher and recently launched C-1545 cone crusher, which has consistently produced up to 800 t/h, will moreover be featured in live working demonstrations at the event, while the company's new I-140 and I-140RS impact crushers, J-1170 and J-960 jaw crushers and 883+ heavy duty and 873 Spaleck recycling screeners will also be on display.
The J-1170 jaw crusher is a highly adaptable machine that provides the flexibility of a crushing and screening plant on one platform for mining and recycling applications.
Meanwhile, t
he 873 Spaleck recycling screen was launched in 2015 and has gained popularity in markets where machine movement from site to site is complicated, notes Terex Finlay. The machine provides material processing capabilities in aggregates, sand and gravel, construction demolition and recycling applications, but from a more compact transport envelope than the existing 883+ model.
Terex Finlay will further demonstrate its T-link telematics remote-monitoring and fleet management system, which allows users to keep track of their equipment, monitor work progress, manage logistics, access critical machine information, analyse and improve the efficiency of machine performance and perform remote operator support.
"We are looking forward with excitement to the upcoming Hillhead 2016 . . . In total we will have 12 machines on display in what will be our largest ever presence at Hillhead. Every machine on display at the show is a new product introduction," comments Irvine.
Terex Washing Systems
TWS will launch a number of new product lines at the event, serving an increasingly diverse range of materials handling sectors.
The company's new modular chassis-mounted scalping unit is ideal for construction and demolition recycling applications, as well as quarry and mine overburdens, states TWS. It integrates seamlessly with other key TWS systems, including AggreSand, which combines aggregate washing and screening with sand processing on a portable chassis.
TWS will also launch its track-mounted AggreStac conveyor range, which is the first in a new and growing range of Terex, conveyor solutions. These have been conceived and designed to integrate the long heritage of compact mobile conveyors within Terex, with a complete review of market demands and new technologies.