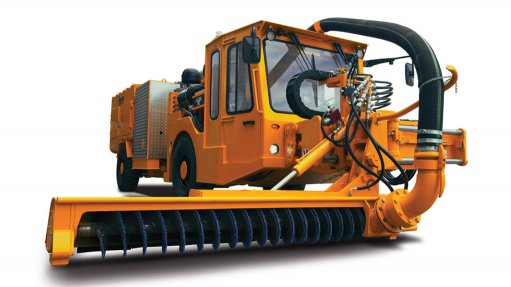 UBCV CLEANING MODE The vehicle has an integrated vacuum system for cleaning spillage, especially under conveyors
Industrial and mining vacuum company Hencon Vacuum Technologies launched its Robot Mole in South Africa last month and also launched its underbelt cleaning vehicle (UBCV) onto the local market in July.
The Robot Mole was developed to clean spillage under conveyors and other limited- or low-access areas in mines and at processing plants.
The innovation is equipped with a vacuum unit, which allows for material to be conveyed through a pipe from under the conveyor, without moving the Robot Mole from under the conveyor like other dozer-only solutions.
The Robot Mole is fully remote- controllable and can be used to clean under conveyors even when they are in use. It is also fully electrically driven, without any hydraulics and associated risk of oil leaks, which also makes it easy to maintain.
The Robot Mole was a joint development between Hencon Vacuum Technologies of South Africa and Hencon BV of the Netherlands.
Hencon GM David Costa de Oliveira says, while the prototype was made in the Netherlands, future units will be fully manufactured either in South Africa or by any other companies under the Hencon group worldwide.
"As a prototype, it has not yet been implemented on a production basis yet, but it will be demonstrated to potential customers over the next few months to prove its capabilities. The intention is to make the product available worldwide," he says.
The Robot Mole is 500 mm high, 910 mm wide and 1 500 mm long and weighs 500 kg; it can also have weight added if applications require it. The product receives its power supply as well as the suction for the conveying of material from the vacuum unit.
The Robot Mole is also equipped with a camera and lights that provide the operator with a full view of the working area. It is designed for use with 150 mm hoses, which means it can be used with Hencon Vacuum Technologies' 110 kW electric and 130 kW diesel vacuum units.

Hencon also launched its UBCV in July. It is a fully independent vehicle for use in trackless mines, with an integrated vacuum system for cleaning spillage material, especially under conveyors.
The vehicle was developed by Hencon's main engineering department in Ulft, in the Netherlands, for Hencon Siberia, a Hencon group company based in Russia.
Costa de Oliveira says the need for this type of vehicle exists worldwide, as many mines have conveyors and battle to handle the spillages around, but especially under, them, with these conveyors not easily accessible through conventional means and equipment.
The UBCV is 2.5 m wide, 3.11 m high and 9.5 m long in transport mode.
It was recently launched in Russia and Russian chemicals holding company PhosAgro will use the vehicle to clean 3 km of conveyors on a 6° gradient.