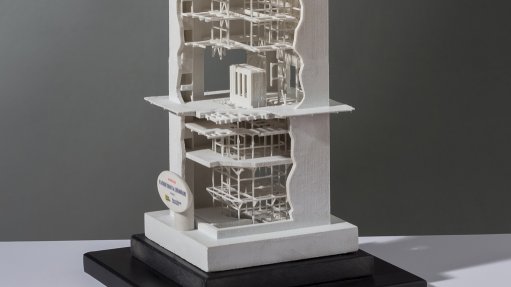 3D BENEFITS The physical model and the virtual models are almost identical, enabling the ergonomics of the structure to be visually checked to ensure functionality
The first three-dimensional (3D) model produced by mining services company Murray & Roberts Cementation using its new 3Dprinting technology is of mining company Ivanhoe Mines' Platreef Shaft 2 headframe, in Limpopo.
"Three-dimensional printing of structures allows for the assessment of the constructability of the design and we believe that this could become a vital tool as it allows a far more realistic perspective," says Murray & Roberts Cementation business development executive Allan Widlake.
Platreef is owned by Ivanplats – which is 64%-owned by Canadian exploration and development company Ivanhoe Mines – which noted in March that the headgear design for the permanent hoisting facility for Shaft 2 had been completed by Murray & Roberts Cementation. Ivanhoe expects to start Shaft 2 early works in 2017, including civil work for the box cut and hitch foundation.
"[Using 3D printing,] Murray & Roberts Cementation [was] able to confirm that there is sufficient space to access all components of the headgear from a maintenance and servicing perspective," Widlake notes.
The company added 3D printing technology to its portfolio this year, adding greater functionality during its project design stages.
The scale of the model is a 1:260 and is an accurate physical rendering of the headgear. It has been printed using ceramic material as opposed to plastics and took just 17 hours to complete.
"The use of 3D printing technology allows engineers to take designs from computer-aided design software and convert them into complete models," says Widlake.
Shaft 2 will be sunk to a depth of 1 080 m and will feature two high-mass, high-speed 40 t skips running at 18 m/s. It will also be capable of conveying 40 t of material or 225 persons in a single deck using a cage and counterweight arrangement.
It will be the main production shaft, capable of hoisting six-million tons of ore a year and will also transport large mechanised equipment between the surface and underground.
Compared with other steel-frame platinum- group-metal headgears in South Africa, it will be a considerable concrete structure 100.5 m in height. The lined shaft will be 10 m in diameter.
The headframe will house all equipment necessary for operating the shaft, thereby reducing the surface footprint. During sinking, maximum use of permanent infrastructure is expected to reduce the changeover delay from sinking to permanent conditions.
"The main advantage in 3D printing structures is that the physical model and the virtual model are almost identical. This means that the ergonomics of the structure can be visually checked to ensure functionality," Widlake says.
The contract for the design and engineering of Shaft 2 was awarded to Murray & Roberts Cementation in June 2014 and work started on sinking it in 2016.