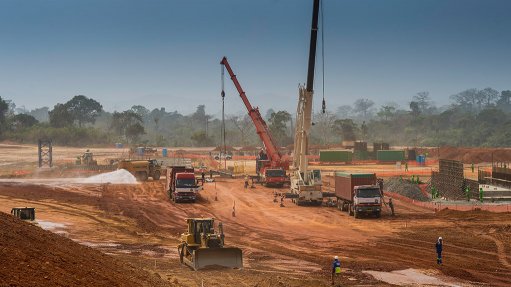 UNDER CONSTRUCTION The Asanko gold mine is scheduled to start production in 2016
The construction of West Africa-focused aspirant midtier gold producer Asanko Gold's first mine in Ghana is 37% complete, with Phase 1 of the construction progressing well and within its $295-million budget.
First gold production from the mine is scheduled for the first quarter of next year.
Asanko Gold projects executive Hugo Truter tells Mining Weekly that premining work has started, with all key infrastructure foundations having been established. Asanko has contracted engineering, procurement and construction management contractor DRA to run the project.
Asanko Gold president and CEO Peter Breese explains that despite industry challenges, including declining gold prices, Asanko regards the jurisdiction as a mining destination with great potential, noting that the Asanko gold mine is the only mine currently being built in Ghana.
"The Fraser Institute's 2014 report ranked Ghana as the fifth most attractive African investment destination, owing to the country's mining tenure, royalty and tax laws, which are stable and well legislated. Ghana also has a highly trained and skilled mining workforce at all levels of an operation," he points out.
Asanko has contracted Ghana-based PW Ghana to undertake the mining of the project. PW Ghana has been on site since the fourth quarter of last year, and is prestripping the main Nkran pit to prepare for ore-mining operations, scheduled to start in the third quarter of this year.
Further, pit dewatering started in December 2014 and water levels have been reduced by about 7 m.
In addition, the base of the primary crusher, the concrete foundations of the ball and semiautogenous grinding mill, as well as the first lift, have also been completed. The erection of the mine's mills is scheduled for the second quarter of this year.
The installation of steel structures started in February, and carbon-in-leach plant foundations have been completed. The construction of the gold room has started, with the contractor camp, which houses about 500 people, already completed.
Truter highlights that power for the mine will be supplied by a 30 km, 161 kV line, which will be constructed along an existing power corridor. Asanko is negotiating a definitive power supply agreement with an independent power producer, which is expected to be finalised in the second quarter of 2015.
He adds that the company aims to release the results of the prefeasibility study for Phase 2 of the Asanko gold project in the second quarter of this year. Phase 2 is expected to increase production by up to 400 000 oz/y.
Truter further notes that since the construction of the Asanko gold mine started, there have not been any lost-time injuries on site, with 278 days of construction activity and 704 568 labour hours completed on the project. He adds that all safety, health and environmental systems and procedures have been fully implemented on site.
Social Responsibility
Breese tells Mining Weekly that, owing to Asanko's commitment to supporting the surrounding communities, the company has designed a compact footprint for the Asanko gold mine to minimise its impact on the surrounding farmland and villages.
"The relocation of some families that resided in Nkran village is well under way, with the construction of 88 buildings in progress," he explains. The completion of the partial resettlement is expected by the end of the third quarter.
Breese says about 60% of the mine relocation budget is expected to be spent on local contractors and creating employment opportunities for the youth in sectors such as bush clearing and earthworks, drainage and stone-pitching works, thereby providing wood, sand and stone for construction, landscaping and water reticulation.
Ten local contractors have been contracted for the relocation project.
Meanwhile, Breese states that the $295-million investment for Phase 1 of the Asanko mine project offers a beacon of opportunity in the Ghana mining industry at a time when many other mines and projects are retrenching their personnel or downscaling operations.
Ghanaian nationals comprise 96% of the project workforce, of whom 43% are employees who have been hired from the local communities and 37% are locals working for contractors.
Further, Asanko has supported several community-development projects even before construction started, including those that improve sanitation and waste management, expand and improve health and educational services, and strengthen other existing local services such as fire response.
"We recently broadened our community-development projects to include capacity building and vocational training, where we have partnered with German international cooperation agency GIZ and the Don Bosco Youth Network, to provide accredited skills-training courses at our two local skills development centres, Esaase and Obotan.
"I am pleased to report our first trainee class of 148 local youth has successfully graduated in vocational trades, with several of them finding jobs with Asanko or one of our contractors," Breese elaborates.
He highlights that since starting exploration in Ghana in 2007, Asanko has created about 475 job opportunities for local communities. Since construction started in 2014, the number has increased considerably.