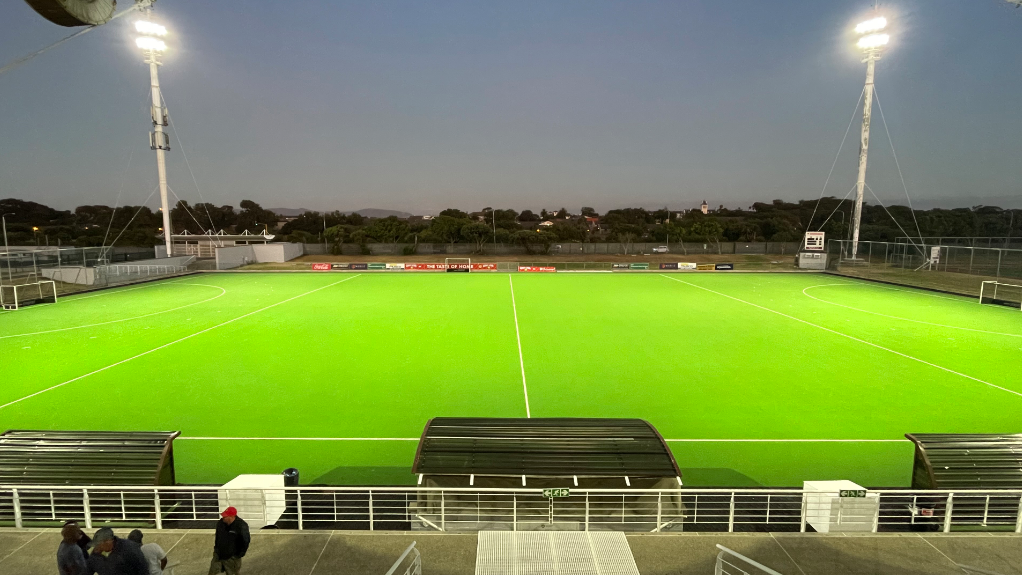 The A-field is illuminated with BEKA Schréder's OMNIBLAST-2-E MAXI floodlights
BEKA Schréder has supplied the LED floodlighting solution for the Hartleyvale Stadium in Cape Town, Western Cape. This stadium is the home of Hockey in the Western Cape and is where all international Hockey games are played in the province.
Hartleyvale Stadium is a field hockey stadium run by the City of Cape Town and has two astroturf sports fields and seating for 1 700 spectators in the hockey section. A new LED floodlighting solution was required to replace the old HID floodlight installation. BEKA Schréder's OMNIBLAST-2-E MAXI was chosen for its local content and because it achieved the required light levels and provides a very high uniformity.
The South-African designed and manufactured OMNIBLAST-E is available in a MIDI and MAXI variant. This LED solution offers an alternative with proven benefits for traditional fixtures fitted with 250W to 2000W HID lamps. The OMNIBLAST-E meets various lighting applications, ranging from general area lighting to recreational sports lighting up to professional broadcasting requirements, matching the horizontal and vertical lighting levels respectively. A modular concept of optical units means that 1, 2 or 3 modules can be mounted on a similar bracket arrangement to offer the utmost versatility, providing light distributions and lumen packages perfectly adapted to the specifications of the area to be lit.
Further advantages of the OMNIBLAST-E include:
Cost-effective and efficient solution to maximise energy and maintenance savings
Housing is manufactured from Marine grade, high-pressure die-cast aluminium
Designed for easy technology upgrade
Meets international sport federation lighting regulations
Inclination angle adjustable on-site
Surge protection 10kV/10kA
BEKA Schréder develops and manufactures energy-efficient LED lighting products in South Africa, designed and suitable for local conditions.
We are very proud to be associated with Hartleyvale Stadium, the City of Cape Town and CDE Electrical in providing a successful LED floodlighting solution for this project.