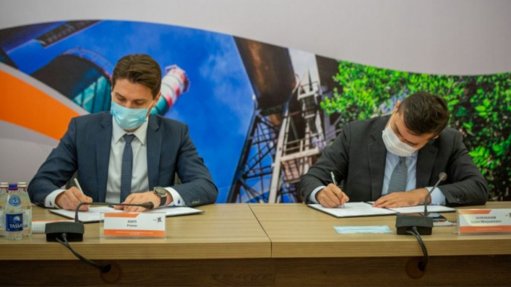 PEN TO PAPER The signing ceremony of the contract or the supply and replacement of four electric filters
Mining plant and machine supplier thyssenkrupp Mining Technologies and diversified natural resources producer Eurasian Resources Group (ERG) in February signed a contract for the supply and replacement of four electric filters at the Pavlodar Alumina Plant, part of the Aluminium of Kazakhstan enterprise.
The supplier delivered the innovative and sustainable filter technology for the alumina plant near the Kostanay and Pavlodar regions in Kazakhstan.
The supply of the four electric filters at the Pavlodar Alumina Plant exemplifies ERG's continuous investment in future-proof technology, as well as its drive to significantly reduce emissions.
"The hybrid filter technology is one of the most innovative available and can achieve a cleaning efficiency of more than 99.99%," says thyssenkrupp Mining Technologies Commonwealth of Independent States and Central Asia regional director Roman Karl.
In 2020, thyssenkrupp Mining Technologies replaced the first two filters on furnaces No. 1 and 2.
The dust and gas cleaning system of sintering furnaces No 4 and 5 are to be reconstructed and filters No 7, 8, 9 and 10 will be replaced.
"The company is very pleased to have received another order after 2020," says thyssenkrupp Mining Technologies Europe and Asia CEO Reza Poorvash.
"Our sustainable and practicable solutions convinced ERG to choose us for this project and we are looking forward to making a valuable contribution to the green transformation in Kazakhstan," he adds.
Notably, the Pavlodar Alumina Plant is one of the largest aluminium oxide factories globally.
The phased replacement of electric filters with hybrid ones is expected to significantly reduce dust emissions and improve the environment in Pavlodar.
"The project is pivotal in ERG's long-term environmental strategy, as it is aimed at reducing emissions with a focus on the minimum requirements to meet world standards," says Aluminium of Kazakhstan president Roman Romanov.
Thyssenkrupp Mining Technologies supplies a full range of machinery, systems, equipment and services for the extraction, processing, storage and transportation of raw materials.