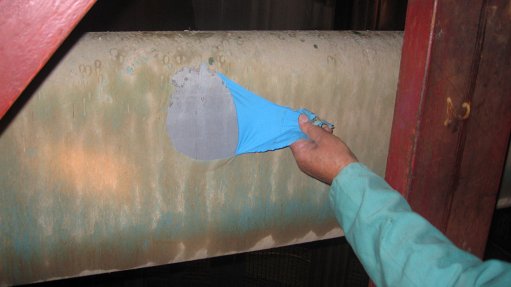 RUSTPRUFE COATED COMPONENTS RustPrufe is environmentally-friendly solutionused to protect electric motors, equipment and structures in acid plants at numerous South African mines
Wear control group Filter Focus launched a new environment- friendly corrosion-protection solution, RustPrufe, at the beginning of this year. The solution is used for protection of any surface, eliminating rust and corrosion for extended periods. The product is formulated with an added flash rust inhibitor, which provides a superior level of corrosion protection.
The solution is a painted or sprayed-on acrylic copolymer emulsion that dries to form a seamless, skintight weather- and ultraviolet- (UV-) resistant protective barrier on the equipment, and can be used in harsh industrial and mining applications.
Filter Focus COO Craig FitzGerald tells Mining Weekly that mine shaft buntings, which function as the support structure within a shaft, are prone to corrosion. This results in having to replace them regularly.
Replacing the buntings is a time-consuming and costly process, he states, noting that applying the RustPrufe solution onto the bunting surface could keep it in pristine condition, owing to the seal provided by the copolymer emulsion.
FitzGerald notes that RustPrufe has successfully been used in Rustenburg platinum mines, in the North West. The company intends to offer solutions for the shafts and headgears used in the platinum and gold mining industries, which use a lot of water in its processes.
FitzGerald tells Mining Weekly that RustPrufe is a water-based liquid coating that is nontoxic and safe to apply. The coating vacuums itself to the surface, removing all oxygen and, therefore, prevents rust and corrosion that can take place when moisture and oxygen are present.
FitzGerald further points out that the coated components do not have to be treated following the removal of the RustPrufe solution, owing to the substrate being maintained in pristine condition. The solution is simply peeled off by hand to reveal a clean and rust-free surface. As a result, "cost savings during routine maintenance and repair shutdowns are tremendous".
Applications of the solution can be temporary or permanent, he notes, adding that RustPrufe can, for example, be used for temporary protection on a gear or similar components being stored outdoors. The solution can quickly and easily be removed, without the need for tools or solvents, minutes before the part is required.
FitzGerald notes that the temporary application of RustPrufe will be more beneficial for mine headgears, owing to the application and removal flexibility of the solution.
However, if used in a more permanent application, the solution can last between five and ten years, depending on exposure to UV rays or heat.
"The product will not detach prematurely from the surface although it is easy to remove if detailed inspections or non- destructive testing is required," he says.
RustPrufe is supplied in numerous colours; however, the transparent coating is preferred by customers, as it affords them the opportunity to inspect treated surfaces without the need to remove the coating.
Rustprufe is also highly acid resistant and has been successfully used to protect electric motors, equipment and structures in acid plants at numerous South African mines. Notable companies showing interest include ball bearing factory Swedish Svenska Kullagerfabriken and mineral processing specialist Metso minerals.