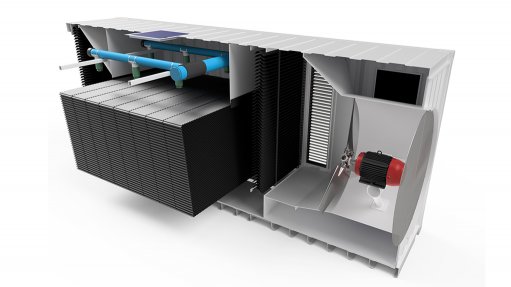 CONTAINERISED SOLUTIONS IWC aspires to provide end-to-end solutions for the mining market
Cooling equipment supplier Industrial Water Cooling (IWC) added a containerised bulk air cooler (BAC) to its range of BACs last month. The coolers keep underground temperatures at an optimum level, ensuring increased productivity and a safer work environment.
The company uses robust corrosion-resistant materials when manufacturing these containerised BACs locally, as well as non-fouling fill materials that result in a "long, trouble-free service life", says IWC MD Roger Rusch.
This makes the units ideal for use at remote mine sites in Africa, he emphasises.
"Fortunately, BACs condense water from the air that is cooled. This results in a net gain of 'sweet' water in this circuit, which can be used to offset any water lost, owing to drift loss, and evaporation that takes place in the condenser cooling towers," he explains.
The single- and two-stage containerised BAC units are ideal for surface and underground mining use.
The single-stage units are the size of a 6 m3 shipping container, and the two-stage units the size of a 12 m3 container.
The units offer air cooling rates of up to 1 100 kW, making them ideal for
smaller-capacity installations and spot cooling.
These containerised induced draught, cross-flow BACs are equipped with directly driven axial flow fans and air mixing louvres.
The fans and mixing louvres combine to provide the required air flow at the correct air temperature required by the mine.
Further, they are designed to be easily transported to site.
"The containerised BAC is sent to site fully assembled and is a simple plug-and-play solution that can be deployed rapidly and transported on trucks used for the transportation of shipping containers.
"This is an asset that is easily moved from one site to another, making it ideal for mines with a limited life or as a rental alternative for short-term cooling requirements," explains Rusch.
Rental or long-term lease options are available for these BACs, which are also easy to maintain, as they have limited mechanical equipment and therefore do not require specialist maintenance.
While the BAC units are standardised products, the chilled water and airflow can be specified, as the units can be tailored to these parameters within the operational limits of the equipment, he adds.
African Footprint
Rusch emphasises that West Africa provides IWC with significant opportunities to supply these containerised BACs – especially to countries such as Ghana, Mali and Burkina Faso – owing to the size of the region's untapped commodity reserves, improving business climate and infrastructure improvements.
IWC works extensively with specialist contractors involved in mine ventilation and cooling to deliver both BACs and cooling towers used for condensing in refrigeration machinery in regions such as West Africa.
IWC's full range of BACs includes cross- and counter-flow packed BACs in either forced or induced draft configurations.
Every containerised BAC is custom-designed to suit a mine's requirements.
The company's field-erected BACs can also be constructed using various materials and would typically include cast in situ concrete, clad steel (hot dip galvanised or painted) or clad pultruded fibreglass structures.
Meanwhile, the company is proud to be associated with the South African gold and platinum mining industries and has provided a number of surface and underground BACs, as well as field-erected condenser cooling towers.
IWC completed projects involving the installation of BACs for miners Gold Fields' South Deep South Shaft, in Gauteng; Sibanye-Stillwater's Kloof No 4 Shaft, in Westonaria; and ROXGOLD, in Burkina Faso. It also installed a tower for a copper mine in Brazil.
IWC has also provided condenser cooling towers for a number of gold mines in Australia.
"We have recognised the need to provide solutions for smaller mines, where large capital expenditure for the fixed plant isn't viable. We are hopeful that this offering will provide a competitive solution in this area," he concludes.