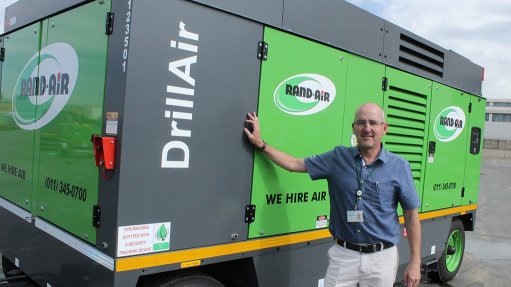 CRAIG SWART The new compressor units are ideally suited for applications such as mineral exploration drilling, geothermal drilling, construction and blast hole drilling
Compressor and generator supplier Rand-Air has acquired two Atlas Copco DrillAir Y1260 variable high pressure (21 bar to 35 bar) compressors. This new technology – from the world's leading manufacturer of compressor and generator equipment – has been scientifically designed around pressure and flow for a wide range of high-capacity drilling applications.
These two new units are ideally suited for applications such as quarrying, mineral exploration drilling, geothermal drilling, construction and blast hole drilling; as well as for services such as aerated drilling and the drilling of wells.
"At Rand-Air, we constantly strive to exceed customer expectations. And therefore, for our drilling customers, choosing the right compressor to match hole depth and hammer size is critical to their success," says Rand-Air fleet manager Craig Swart.
"With these two new compressors, our mining customers can choose the right compressor for their core business; and have the flexibility to adapt to changes in well depth and hammer size for any custom application," Swart notes.
He adds that DrillAir compressors can achieve maximum air flow at any pressure, as the relationship between pressure and flow is optimised, thereby creating the ideal combination of these two variables to improve drilling efficiency through the most efficient use of compressed air – and ultimately, dramatically reducing fuel costs.
What sets the two new DrillAir compressors apart is their advanced pressure-assisted through cognitive electronics (PACE) and DrillAir AirXpert technologies, which are simple to use and place drill operators firmly in control. PACE is a dynamic optimisation feature, which allows the user to electronically adjust the pressure and flow.
Additionally, these compressors differ from others on the market, with built-in after coolers, which affect air quality in terms of water control. These compressors also feature adjustable flow and pressure control.
Being able to match flow and pressure to their application requirements now eliminates the need to have two separate machines.
DrillAir AirXpert furthermore offers up to 30% improved drilling speeds. This performance management system includes software such as dynamic flow boost, dynamic control and extended pressure range (XPR), as well as a light emitting diode hardware controller, electronically controlled inlet valve and a variable minimum pressure valve.
The dynamic flow boost provides up to 4 m³/min of additional flow when flashing and during drill stem refills. In addition, it offers 10% more flow at lower working pressure for large diameter drilling. The key benefits include quicker flushing, faster drill stem refill, and a shorter time to complete drilling.
"Atlas Copco's XPR extends the working pressure range whilst setting it as low as 21 bar. In addition, the FuelXpert system ensures fuel efficiency and partial load with an additional fuel filter for better engine protection," he explains.
"The combination of DrillAir AirXpert technology, the Atlas Copco screw element and the Cummins Stage III engine provides high efficiency for a wide range of pressure and flow settings," Swart adds.
"Our new DrillAir compressors have been chosen for their robustness, and the fact that they are therefore well-suited for use in remote and harsh environments, where support is sometimes hard to access," concludes Swart.