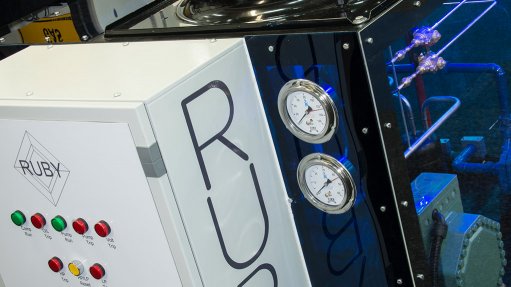 RUBY HEAT PUMP RANGE The new CO2 heat pumps have an energy saving of between 65% and 75%
Green cooling and heating solutions company Commercial Refrigeration Services (CRS), in June, released its environment-friendly carbon dioxide (CO2) heat pumps and chillers, designed for the African market.
As of this year, it is illegal to use hydrochlorofluorocarbons, including the ozone-depleting refrigerant gas, R22, in refrigeration, heat-pump and air-conditioning systems.
Following the global trend towards using natural refrigerants over the years, CRS began research and development in 2009 into using natural gases as a refrigerant.
CRS head of engineering Wynand Groenewald tells Engineering News that the company has gone beyond CO2 refrigeration and has ventured into CO2 heat pumps, chillers and air conditioning.
For example, its new CO2 heat pumps have an energy saving of between 65% and 75%. The use of a natural refrigerant makes the pumps carbon neutral.
They can heat water up to 80 °C, which Groenewald says has a higher energy efficiency, compared with conventional heat pumps that can heat water to 60 °C. This higher efficiency results in a safer product, as legionnaires bacteria is only killed at temperatures higher than 75 °C.
He adds that this creates a market for heat pumps – which could never before be fully used in hospitals, hotels and other locations where disease control is necessary – as well as industrial applications where boilers are used to create hot water.
Further, the CRS chillers are used in air-conditioning and chilled-water applications and are the only locally manufactured chillers in Africa, Groenewald says.
This enables heating, ventilation, and air conditioning (HVAC) contractors to use these chiller's and companies are able to reduce their carbon footprint by implementing an environment-friendly HVAC system instead of systems that use harmful gases.
The chillers and heat pumps use natural refrigerant CO2, eliminating ozone-depleting and global-warming potential.
CRS can modify a system to adhere to any customer's specifications or requirements and the products vary within a range of 20 kW to 1 000 kW.
Although the manufacturing of the heat pumps and chillers requires the import of certain components, all manufacturing is done in South Africa.
CRS is marketing the products into the rest of Africa and Australia, and Groenewald says there has also been interest in the products from companies in New Zealand.
He adds that these South Africa-based refrigeration and heating products are comparable to internationally available products.
"It shows that new technology does not have to be imported and can be produced locally. We have had various visits from European companies where the feedback was that our products are of the same standard as, if not better, than, [the products] they have come across in Europe," Groenewald concludes.