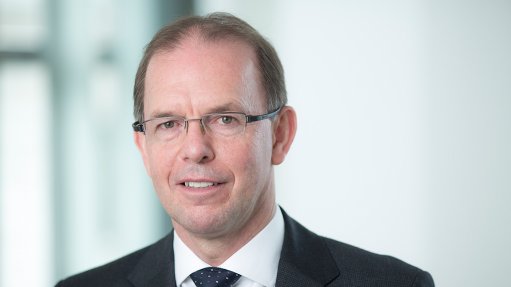 New World Platinum Investment Council CEO Trevor Raymond.
JOHANNESBURG (miningweekly.com) – New World Platinum Investment Council (WPIC) CEO Trevor Raymond – working closely with WPIC leadership and a wider team – describes as great the opportunity to boost efforts to increase the number of investors globally who are considering allocating to platinum, amid the forceful worldwide build-up of decarbonisation momentum.
"Our success will strongly support platinum's role in global decarbonisation, as investment demand helps bridge any mismatch between demand growth and supply growth," said Raymond, who has been a core member of the WPIC leadership team since 2014, most recently leading the organisation's global research and investor development functions.
Effective from October 1, his appointment follows the decision by CEO Paul Wilson to retire, after founding the council and leading it for eight years.
WPIC chairperson Roger Baxter spoke of Raymond and his colleagues David Badham and Weibin Deng being instrumental in WPIC's success to date, under Wilson's leadership.
Raymond brings 30 years of experience in equity and metals markets.
"He's passionate about WPIC's mission to embed platinum investment as a key global demand segment," Baxter stated in a release to Mining Weekly.
The mission of WPIC – whose members are Anglo American Platinum, Impala Platinum, Northam Platinum, Royal Bafokeng Platinum, Sedibelo Platinum and Tharisa – is to stimulate global investor demand for physical platinum through actionable insights and targeted product development.
WPIC's 'Platinum Perspectives' in August highlighted platinum's role in enabling the achievement of global decarbonisation targets through its use in proton exchange membrane (PEM) electrolysers, which, when powered with renewable energy, generate green hydrogen, a zero-emissions energy carrier that can be used in a range of applications to replace fossil fuels.
If solely used to displace the burning of natural gas, green hydrogen generated by platinum-based PEM electrolysers could deliver more than 10% of the global carbon dioxide (CO2) emission reduction target by 2030, as set out in the Paris Agreement, which lays down that emissions must reduce by an average of 7.6% a year between 2020 and 2030 to limit global warming to 1.5 ºC above preindustrial levels, or at least reduce by 2.7% a year to limit global warming to 2 ºC.
In 2020, global CO2 totalled 43.2 Gt, which means that, by 2030, CO2 reduction would have to range between 8.2 Gt and 18.7 Gt to mitigate against the warming scenario.
With the volume of electrolyser projects currently planned, and assuming the PEM market share of these ranges from 31% to 96%, between 9-million and 29-million tonnes of platinum-enabled green hydrogen could be produced by 2030.
Every megawatt of PEM electrolyser capacity – when powered by renewables – can displace 10 000 t of CO2 emissions, assuming a 48.8% load factor and an operating life of 20 years for the electrolyser.
In terms of yearly platinum demand, this equates to between 400 000 oz and 1.3-million ounces in 2030, depending on PEM electrolyser market share.
CHINA'S PLATINUM CENTRE
WPIC, Anglo American and Honeywell are among close to 70 organisations that have signed strategic cooperation agreements with the Lin-Gang Group in support of the Platinum and Precious Metals Centre, which is being established in the Lin-Gang Special Area of Shanghai. The Lin-Gang Group is a State-owned developer of industrial parks.
As part of its commitment, WPIC is relocating its Asia Pacific headquarters to the Lin-Gang Special Area, where, from 2023, the annual Shanghai Platinum Week, which it co-sponsors, will take place.