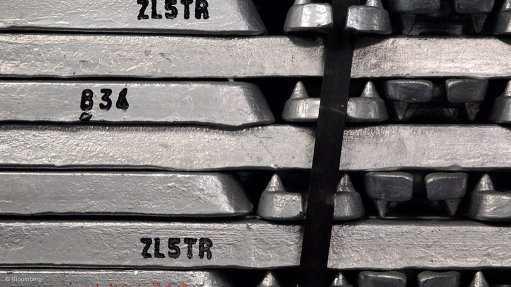 Photo by: Bloomberg
PERTH (miningweekly.com) – Base metals miner New Century Resources has completed its A$46.9-million entitlement offer, which formed part of a larger capital raise announced at the end of October.
The company in October launched a multi-faceted transformational growth transaction to accelerate its growth trajectory, which included a strategic investment by Sibanye-Stillwater, which formed the basis of a three-tranche equity raise.
Sibanye-Stillwater agreed to acquire a 19.99% position in New Century, investing up to $46-million. New Century also announced an institutional share placement to raise $24.8-million and the one-for-four entitlement offer to raise $35.2-million, or A$46.9-million.
The company on Wednesday told shareholders that it had received more than 158.1-million applications for the entitlement offer, valued at A$24.5-million, with the shortfall of 144.3-million shares fully allotted to existing and new shareholders.
The new shares under the entitlement offer would be issued on November 26, and will start trading on the ASX on November 29.
The entitlement offer will be followed by a top-up conditional placement to allow Sibanye-Stillwater to retain its 19.99% shareholding in the company, and New Century is expected to raise a total of between A$105-million and A$119-million.
Sibanye-Stillwater and New Century have entered into a strategic relationship focused on New Century's growth in global economic rehabilitation and tailings management. Leveraging New Century's track record, intellectual property and tailings management expertise, the company is focused on accelerating growth via acquisition and development of economic rehabilitation and tailings management projects.
The first project proposed to be executed under this expansion strategy will be the Mt Lyell copper mine in Tasmania, Australia. Beyond this first project, the companies intend on jointly evaluating further potential projects globally.
Mt Lyell has been on care and maintenance since 2014, following a series of safety incidents which caused operations to be suspended. Owner Vedanta subsequently decided to divest the mine due to its size and location relative to its overall copper portfolio.
Mt Lyell has a 135-million-tonne mineral resource containing 1.1-million tonnes of copper and 0.94-million ounces of gold across various underground and openpit deposits. Significant infrastructure remains in place, including a 900 m shaft to the historical underground mining operation, a 2.4-million-tonne, three-stage crushing and flotation circuit, rail siding and site services infrastructure.
The site includes a tailings storage facility, containing 42-million tonnes of historic tailings. Development work over the last few years has highlighted the potential for tailings retreatment to recover remnant copper, gold and cobalt.
New Century has inked an option agreement over the project that will allow the company to evaluate the potential for restart of operations at Mt Lyell. The company will investigate the refurbishment or replacement of the existing infrastructure for tailings reprocessing, with subsequent integration of sustainable in-situ ore processing to follow.
New Century will be required to spend a minimum of $10-million on the project area over a two-year period, towards development and exploration, as well as reimbursement of care-and-maintenance costs.