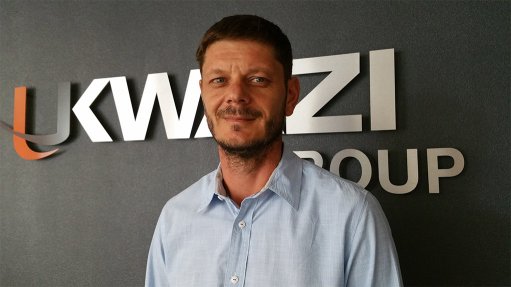 JACO LOTHERINGEN Outsourcing technical services to companies such as Ukwazi ensures that the technical team is part of a revenue centre
With local and global mining companies operating under continuous pressure to consistently deliver on operational targets, save costs and sustain profitability, amid an age of smart business and regulatory uncertainty, local technical services provider Ukwazi is offering a turnkey outsourced technical service solution with a proven track record.
This approach is different from the body-shop model, which traditionally does not implement processes, solve problems, give access to a large group of specialists, or provide access to the latest technology. The old model (body-shop approach) merely and temporarily fills a gap, and that could be what the client requires. What makes the turnkey outsource model different, is that it provides a sustainable service based on tested processes, tested technologies and trained and experienced personnel, says Ukwazi MD Jaco Lotheringen.
"The team consists of Ukwazi mining engineers and mine planners to support and facilitate the planning process, implementation, the training and support of the mine's technical teams or the provision of additional capacity on a short-term basis, depending on the client's requirements.
The Ukwazi on-site team can also assist mining companies with operational reviews, turnaround strategies for underperforming mines, or tender adjudication for mine contractors and can focus on tender adjudication issues, such as the bill of quantities, mining method statements and mine design.
The company encourages teamwork in technical services. Teams can also provide collective knowledge and solutions for challenges, which also ensures that mining operations and technical departments are not centred around a few overworked individuals, says Lotheringen.
He notes that, traditionally, technical services teams on mines have been considered an additional cost, and that comes with obvious disadvantages. However, the outsourcing of this service to companies, such as Ukwazi, ensures that the technical team is part of a revenue centre, with advantages that include providing employees with access to standardised and tested processes, technical support, and the latest and most appropriate software, hardware, advice and new technologies.
Ukwazi has experience across the continent in short-term and long-term outsourced technical services contracts that range from one year to four years. These contracts have provided Ukwazi with opportunities to form an integral and integrated part of the mine's operation. "A successful, outsourced team will have access to specialists and processes that have been successfully implemented at other operations," Lotheringen says.
Correctly outsourced technical services enable mining companies to focus on ensuring that revenue centres are running smoothly, while Ukwazi manages the skills retention, in-house training, business improvement, skills replacement and a pool of efficient and trained technical resources to ensure that operations run smoothly.
Ukwazi is uniquely positioned to provide an outsourced mining technical solution,
Lotheringen concludes.