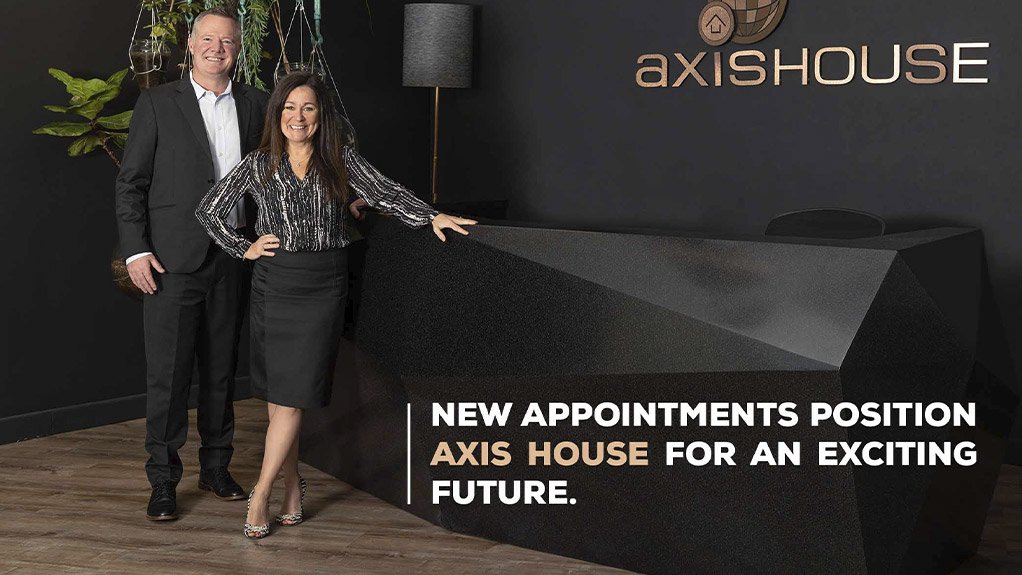 Reagent specialist Axis House is priming for an exciting period of growth and expansion following the appointment of key personnel in leadership positions.
The company recently announced that Quinton Giles will be taking over from Justine Stubbs as Managing Director. Stubbs, who is one of the founders of Axis House, continues her journey with the company as CEO.
As managing director, Giles is eager to leverage this strength and grow it further. He also plans to capitalize on Axis House's pioneering spirit: "I look forward to implementing new methods in all areas, from purchasing to logistics and reporting. The Covid pandemic saw many companies becoming introspective, but to succeed in today's environment, an outward-looking approach is crucial. This is what will help us identify, and take advantage of, new opportunities," he says.
He is looking forward to seeing the company diversify through the addition of key, complimentary products, and will place emphasis on growing technology volumes as a means to prompting holistic growth.
iles joins the company after a 20- year career in logistics: he worked his way through several positions at Bridge Shipping (which later became C. Steinweg Bridge) before he was named Commercial Director of the Group business. Here, Giles was responsible for optimizing the profit and growth of the business. In this position, he honed his negotiation and leadership skills.
Giles is, moreover, excited to work closely alongside Stubbs to extend the company's product offering beyond the regions where Axis House currently operates, with an eye to opening strategic offices around the globe in areas where it is able to leverage off existing structures and product ranges. Another goal is to see business intelligence assume a more prominent role within the company.
It was during this time that he was first introduced to Axis House. "I first experienced Axis House as a supplier to the company. I was immediately impressed by its extremely diverse product offering, as well as its ability and willingness to embrace new ideas and follow them through," Giles says. He adds that Axis House is set apart from competitors through its unsurpassed basket of products.
Giles describes his leadership style as rooted in integrity, honesty and transparency. A strong believer in leading from the front, he is determined to cultivate strong support for his vision for the company.
AXIS HOUSE | NOVEMBER 2022
"It is a privilege to take the helm of such a mature and successful company. My goal now is to see Axis House firmly entrenched at the forefront of technology in the chemical reagent field. I aim to see this company recognized as the market leader, driven by a staff who are proud to work for this unique business and are rewarded for their efforts."
Stubbs' goal for Axis House is to see the group continue offering a product range that keeps pace with times and new challenges, backed by world class service and differentiated by flexibility and agility that allow it to support clients in any environment. Key to doing this, she says, is attracting likeminded industry leaders to the fold.
Stubbs, meanwhile, has been part of the team that has developed Axis House from a six-employee company back in 2001 to the powerhouse it is today. Having fulfilled a number of roles within the business, from logistics and sales manager to general manager and MD. As Group CEO, her leadership style is rooted in having a very clear strategy and empowering her colleagues, ensuring that the company's vision is always clear and that employees are rewarded for their hard work.
"I see Axis House growing globally as we replicate our winning formula in all territories – a formula built on pairing our strong ethos with work ethic," Stubbs concludes.
Quinton Giles
This is important to her, because she is firm in the belief that it's the people that make a company great. "I am proud to say that our team at Axis Group is second to none. We have managed to cultivate a competitive yet collaborative environment that is tough and fun to work in."
Stubbs maintains that Axis House's is distinguished by its ability to solve problems at all levels of a processing plant, anywhere in the world. "Our technical expertise, coupled with strong commercial and logistics teams, give our clients not only the best possible performance, but good pricing, with product delivered on time."