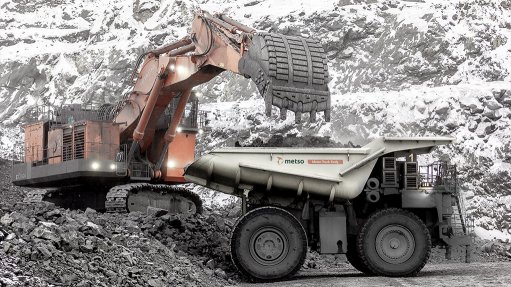 RUBBER COATED The truck body tray is specially coated to absorb shock and increases the life span of the body
Mining equipment maker Metso Minerals' Metso hybrid truck body, and an expansion to the MX multi-action cone crusher series, the MX3, were launched in April at the Bauma trade fair held in Munich, Germany.
The Metso truck body and improved MX3 are available in South Africa and Southern Africa through Metso's Africa division.
The Metso truck body is an innovation that combines the benefits of a rubber lining and a high-strength steel structure, enabling mines and quarries to haul more while requiring less maintenance.
"The truck body offers up to six times the wear life with 20% to 30% less weight," says Metso Africa senior VP Qasim Abrahams.
Developed in Sweden, the one-piece truck body consists of a lightweight tray designed for off-highway trucks used in mining and quarrying. The body is available for all common haul truck models.
The elastic rubber absorbs the energy of every impact, preventing it from reaching the frame and, therefore, allowing for a lighter-than-usual, stronger steel frame beneath the rubber. Therefore, the body can absorb maximum shock at the lowest possible weight.
Owing to the tray's special design, the truck body is lighter than any other truck body, allowing for an increased payload and fuel savings, thereby achieving a lower operating cost per hauled ton.
The linings can be supplied in different polymer materials to meet different demands, making them last longer. There is also a special liner that can be used to tackle possible carry-back problems with fines like iron- ore or coal.
Meanwhile, Abrahams further highlights the MX3 as a "standout crusher", underscoring the optimised design for mid-sized quarrying.
The design allows for improved crusher productivity and lower operating costs. Suitable for secondary, tertiary and quaternary crushing stages, the new Metso MX3 is designed for hard- and soft-rock applications.
The patented multi-action technology allows for dynamic setting adjustment and wear compensation without having to stop the process, and provides more than 10% more uptime.
Abrahams concludes that the products received a positive market reaction at respective launches, with both products "boasting a noteworthy amount of sales".