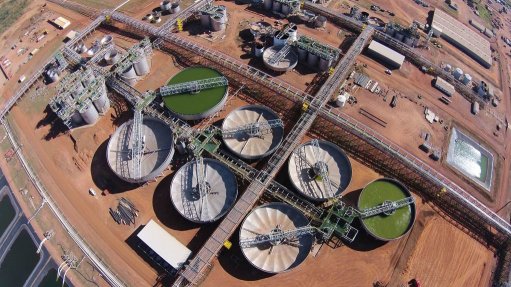 CONFLICT-FREE OPERATION ERG's Metalkol Roan Tailings Reclamation project will supply 14 000 t/y of responsibly mined cobalt to the global market in 2018
Joining other international businesses and organisations at the inaugural World Economic Forum Sustainable Development Impact Summit, held in New York from September 18 to 19, diversified miner Eurasian Resources Group (ERG) helped launch the Global Battery Alliance.
The alliance is dedicated to ensuring that there is an ethical and sustainable global supply chain to create the lithium-ion batteries that form a critical power-storage solution for high-end electric vehicles, electronic devices and renewable-energy technologies.
Cobalt is one of the main components of these batteries and its price has almost doubled over the past year, owing to rapidly growing demand for these batteries. However, more than 60% of the world's cobalt is located in the Democratic Republic of Congo (DRC), where artisanal mining operations remain widespread and can include child labour. Therefore, there is a high risk that end products used worldwide may contain unethically mined materials.
ERG's market intelligence division estimates that cobalt demand will almost double to 184 000 t by 2025 as more motor manufacturing companies produce electric vehicles. However, the group, which is one of the world's largest cobalt suppliers, is determined that this growth should not become a force that drives unethical sourcing activities.
Leading by example, ERG has ensured that all its mining activities take place in large, regulated industrialised complexes where child labour is strictly prohibited. Moreover, it has committed to ensuring that, when its new Metalkol Roan tailings reclamation project, near Kolwezi, in the DRC, becomes operational at the end of 2018, it will supply 14 000 t/y of responsibly mined cobalt to the global market. Thereafter, production is set to increase to 21 000 t/y, enough to produce batteries to build 2.6-million high-end electric vehicles.
ERG is also investing significantly in the development of certification schemes for cobalt and is implementing a traceability system and a chain of custody assurance systems at Metalkol, based on the Organisation for Economic Cooperation and Development's Supply Chain Due Diligence Guidance.
In addition, the group is promoting alternative livelihoods in traditionally artisanal mining communities, funding and staffing schools in the DRC to support the education of about 9 000 children to curtail their involvement in artisanal mining activities. The company has also partnered with the Good Shepherd Sisters Foundation to support the foundation's campaign to eradicate violence and abuse against women and children in local communities.
However, ERG CEO Benedikt Sobotka highlights that it is impossible to create an entirely responsible cobalt supply chain alone, pointing out that this can be achieved only through a partnership of leaders from business, governments and nongovernmental organisations.
"We want to ensure that everyone benefits from the growing demand for alternative energy. It is vital that future energy supplies include ethically sourced storage solutions and we all need to do whatever we can to put an end to child labour. The alliance, thus, has a critical role to play in achieving this objective."
Investing in Africa
ERG produces cobalt and copper in the DRC and Zambia.
The group has had a successful year, with both cobalt and copper performing strongly, and copper demand from China driving prices up to a three-year high. Moreover, ERG expects that the nation's refined copper consumption will continue to grow for the remainder of the year, supported by activity in the construction and appliances sectors. In the long term, China's Belt and Road Initiative – which aims to develop trade links across Europe and Asia – as well as the country's investment in copper-hungry renewable energy, will further drive demand as falling ore grades, reserve depletion and a thinning pipeline of projects constrain mine supply.
The group highlights that its alliances with Chinese companies is a key strength, enabling it to advance its operations in Africa and worldwide. A major challenge facing its operations in Africa is, however, a lack of reliable power, with much electricity supply in the sub-Saharan Africa region being supplied by outdated hydropower sources. ERG is responding to this by investing significantly in developing power sources, including a thermal coal plant in Mozambique, which will support its operations and the region as a whole.