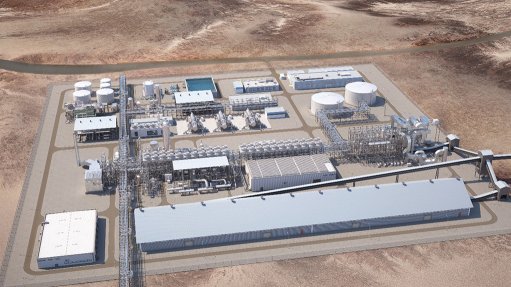 3D rendering of the NeuRizer urea project
ASX-listed NeuRizer has signed a binding, long-term take-or-pay offtake agreement with petrochemicals company Daelim subsidiary DL Trading for 500 000 t/y of granular urea fertiliser at an index-linked price.
The company said the agreement brought its flagship NeuRizer urea project (NRUP) closer to production by ensuring the future revenue required for project financing.
The NRUP is a nationally significant project that will deliver nitrogen-based fertiliser for supply into Australian and international agriculture markets. Located in South Australia, 550 km north of Adelaide, the NRUP will initially produce one-million tonnes a year of urea fertiliser with the potential to increase to two-million tonnes a year.
The NRUP will be one of the biggest infrastructure projects of its type in Australia, providing long-term economic development and employment opportunities, involving about 2 250 construction jobs and 1 200 permanent positions, for the surrounding communities.
Under the A$1.5-billion agreement, 50% of the initial yearly production target has been contracted to DL Trading for the first five years of operation with the option to extend by mutual agreement
"This agreement with DL Trading . . . is a company maker. To finalise an agreement of this magnitude has taken a lot of work from both sides," NeuRizer executive chairperson Justyn Peters said on Monday.
NeuRizer and DL Trading entered into a heads of agreement for the offtake in November last year, with the finalisation of the agreement further extending the relationship between NeuRizer and Daelim, whose subsidiary DL E&C was awarded the engineering, procurement, construction and commissioning (EPCC) contract for NRUP in June last year.
The take-or-pay offtake agreement came shortly after it was announced that a private share placement agreement would see DL E&C taking a 9.1% stake in NeuRizer.
NeuRizer said that the offtake agreement was likely to be the only offtake agreement required to secure debt funding for the construction of the NRUP, as it was sufficient to cover all costs including finance. Nonetheless, NeuRizer was not prevented from entering into further offtake agreements with other parties should it be deemed appropriate.
"A further 50% uncontracted urea supply allows us to remain agile to support domestic demand and take advantage of market pricing. The continued global fertiliser crisis made a compelling case for DL Trading to shore up domestic supply from a reliable and cost controlled source," NeuRizer MD Phil Staveley said.
The agreement with DL Trading will be focused purely on the export market and will be premised on an agreed pricing mechanism based on index-linked pricing.
Moreover, the contract value of A$1.5-billion is based on forecast CRU prices. At current prices it will be worth more than A$2.8-billion.
The agreement is predicated on several conditions that mostly relate to the successful production of urea at NRUP.
Firstly commercial production – 30 consecutive days of continuous production at a rate of 2 650 t/d – needs to occur, with a taking over certificate issued by NeuRizer to DL E&C under the EPCC contract.
Secondly, NeuRizer must secure all necessary infrastructure and facilities to enable the shipment of at least 84 000 t a month of product.
Thirdly, if the NeuRizer board's final investment decision is not to proceed with the project, then the agreement will be terminated.
"Everything points to NeuRizer being in the right place at the right time. With international gas prices dramatically increasing, with our only domestic production of urea closing down at the end of this year, with food staples in supermarkets continually running short and food security becoming more of an issue daily, and by NeuRizer providing domestic urea production, we go a long way to solving these issues," Peters said.