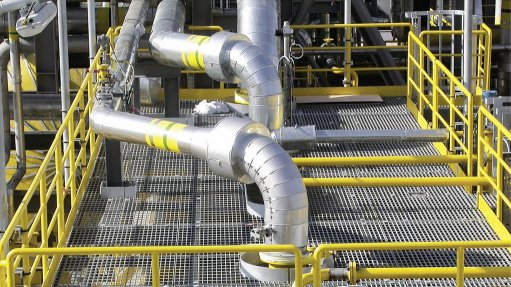 FASTENING DEMAND Across all projects, Hilti is experiencing the most demand for its grating fasteners and multipurpose fastening for the electrical control and instrumentation discipline
Construction industry service and technology provider Hilti South Africa (SA) is often approached by engineering, procurement and construction (EPC) firms once they have completed designs for their mining clients.
Unfortunately, the biggest challenge Hilti is facing is the gap in the level of detail it offers for its fastening solutions and installation systems, compared with what EPCs offer their clients. Hilti SA mining business development manager Hector Cerdio tells Mining Weekly that this is owing to the level of detail offered by Hilti not yet being a full requirement for EPCs. "But we are starting to create relevance now."
The company provides fastening solutions for steel and concrete, and installation systems, which can be incorporated into its clients' designs through its engineering service, while the design of project-specific installation systems is undertaken by the company's design centre. "Our full value proposition combines software, engineering services and products to provide a tailored total solution," adds Cerdio.
"The solutions we offer require a high level of detail in the engineering phase," he says. Cerdio reasons that this level of detail may not be needed by EPCs servicing the mining sector, as their clients do not request detail, for example, on the specification of cable tray supports. He adds that EPCs often refer to this detail as a site run application, leaving it in the hands of the contractor.
As a result, there is a more chance for things to go wrong, with Hilti SA engineering, inland, energy and industry head Christiaan Davel noting greater possibility for spacing, accessibility, budget, specification and supply issues, as well as reputational harm.
If the use of Hilti's solutions can be incorporated from the design phase, these issues can be eliminated and may result in the inclusion of technological advancements that better meet project needs and mitigate the procurement of overspecified solutions. Having Hilti involved from the design phase also ensures that the company has adequate stock on hand for a specific project. However, often when EPCs contact Hilti to procure its solutions, they are already facing delays and having to secure approval of new budgets after allocating a portion of a project's budget to inadequate solutions.
EPCs, however, do not see the benefit that clearly, says Cerdio, highlighting that they prefer to limit engineering hours to present a lower cost estimate when tendering for projects.
To promote the benefits of greater detail, Hilti offers its engineering services for free in South Africa. The company recently provided design detail for the cable tray supports and cable ladders of a mining project in Indonesia awarded to a South African EPC, saving its customer the cost of engineering hours. Subsequently, this initiative will afford the EPC's contractor greater engineering detail of the best supports for the project and improve productivity on site.
"This service is something Hilti has been offering for many years," notes Cerdio. However, owing to growing demand for this service globally, although not yet in South Africa, and the high amount of engineering hours involved, Hilti has started charging for this service.
Detail Driven by Software
More EPCs are moving away from drafting software AutoCAD, which Cerdio describes as a very static software, to adopt more dynamic, intelligent software that enables three-dimensional (3D) designs. The use of this new software, offered by software developers such as Revit, Intergraph and SmartPlant 3D, is making it much easier to design complex processing plants and remodel designs if needed in less time than it would take using older software, thereby improving productivity.
Although, Hilti works in most software, Davel emphasises that as more EPCs, such as Worley- Parsons, adopt more dynamic software, the level of detail in designs is increasing.
"The 3D capabilities of new software are allowing EPCs to see the benefit of being able to include more detail in their designs with the same level of effort as before, negating the need to allocate additional engineering hours," he explains.
In this same vein, Hilti offers software for anchor design; a building information modelling (BIM) library compatible with computer-aided design (CAD) and AutoCAD and BIM software solutions Revit and Tekla Structures; and shear connector design software for composite beam design. Davel highlights that "this is where Hilti's software starts increasing the demand for our solutions".
Hilti is proactively meeting with EPCs, he says, to demonstrate the capabilities and benefits of its composite deck designing, which has resulted in a local EPC looking to use the solution in its design for a mining project in the Democratic Republic of Congo (DRC).
The company also offers the Profis Design Software suite, which comprises Profis Anchor, Profis Rebar and Profis Installation, and is compatible with BIM/CAD object databases.
"We are experiencing a lot of success in integrating the 3D solutions we offer through EPCs adoption of advanced software solutions," states Davel.
Although, Cerdio adds that success is in more advanced markets, such as Europe and North America.
To further aid mines and mining consulting engineers on site after they have procured the company's solutions, Hilti SA appointed mining engineer Charon Maseka four months ago. Maseka assists with on-the-ground engineering designs and training.
One consulting engineering firm with which the company works closely is DRA, with Cerdio noting that Hilti SA has assisted the company with three to five projects this year. Other Hilti clients include engineering companies Wood, WorleyParsons and Hatch.
Cerdio adds that Hilti SA is working to build up a pipeline of projects for the next six to 18 months, with the company starting to see many projects being undertaken by the EPCs it works with in the DRC, Ghana and Botswana.
In South Africa, Hilti is involved in projects such as Africa-focused gold producer Pan African Resources' Elikhulu gold tailings retreatment project, in Evander, Mpumalanga, where Hilti's work is 95% complete; platinum producer Northam's Booysendal North and South mines, in Limpopo; and black-empowered coal and heavy minerals mining company Exxaro's Belfast coal project, in Mpumalanga, where a new pit and dense-media separation plant are being established.
Across all projects, Hilti is experiencing the most demand for its grating fasteners and multipurpose fastening for the electrical control and instrumentation discipline, where lights, cable racking and pieces of Unistrut metal framing systems need to be fixed to steel for junction boxes. "This is where we are gaining more relevance on site, because these solutions are neat, simple and easy to use, and increase not only the quality of the fixation but also improve productivity on site," says Cerdio.
In 2017, Hilti's revenue was SFr 5.1-billion and it is experiencing double-digit growth this year, recording 14.7% in September. This bodes well for the company's research and development (R&D), as Hilti invests 6% of its revenue in R&D, which involves adding new business units. This year, the company is introducing a software business unit at its headquarters in Lichtenstein to create enhanced partnerships with EPCs.
"Hilti's software offering will increase drastically in the coming years, changing how the company relates with engineering firms. With this approach we are trying to create partnerships with our customers rather than just being a product supplier," states Cerdio.
Hilti SA will have a direct line with this business unit, sending its staff for training when new services are available to present to local customers.