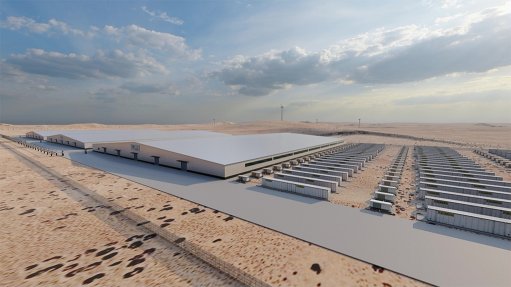 Artist impression of the Hyphen green-hydrogen facility planned for Namibia
Green hydrogen development company Hyphen Hydrogen Energy (Hyphen) is optimistic that the implementation agreement for a planned $10-billion project will be signed with the Namibian government by year-end.
The signing of the implementation agreement will trigger the commencement of the front-end engineering design phase of the project, which will be constructed over two phases with the eventual goal of producing 350 000 t/y of green hydrogen from 5 GW to 6 GW of renewable generation capacity and a 3 GW electrolyser.
The $4.4-billion first phase is expected to produce 125 000 t/y of green hydrogen, to be further processed into 700 000 t/y of green ammonia for export to Europe.
A joint venture between Nicholas Holdings of the UK and ENERTRAG of Germany, Hyphen was awarded preferred-bidder status in November last year on some 4 000 km2 of land within the Tsau //Khaeb National Park, near Lüderitz.
The Namibian government has earmarked 25 000 km2 within the region for the development of a green-hydrogen industry involving multiple investors.
In June, Namibia's Cabinet endorsed the composition and appointment of the 'Government Negotiations Team' assembled to finalise the implementation agreement with Hyphen, as well as the proposed timeline of its signature.
Hyphen and the Namibian government aim to begin construction in January 2025, with commissioning of the first phase by the end of 2026.
The total investment over both phases is roughly the equivalent of Namibia's current yearly gross domestic product.
Hyphen CEO Marco Raffinetti said he was pleased by the Namibian government's commitment towards concluding the implementation agreement, which would facilitate the start of the next phase of the project.
"Our project will put Namibia's green hydrogen industry firmly on the global energy and decarbonisation map and position Namibia for rapid green-hydrogen scalability," Raffinetti said in a statement.
Hyphen also reported the appointment of the Boston Consulting Group and Lazard as its international strategic and financial advisers respectively, complementing its existing legal advisory team, comprising Slaughter and May and ENS Africa.