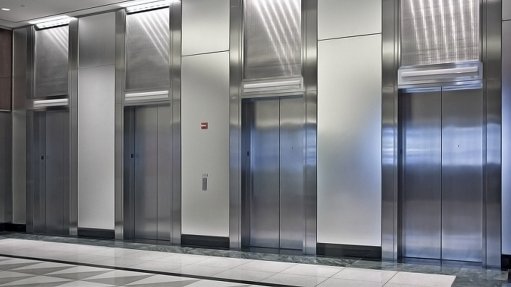 NEXT GENERATIONSchindler 5500's light-emitting diode lighting and Sleep Mode can provide significant energy savings over time and, thus, reduce the environmental footprint of a building
Elevator and escalator engineering company Schindler, part of Schindler Group, says it has been inundated with orders for its new lift that was launched in April – the Schindler 5500 – especially from Namibia, and is supplying about 20 across Southern Africa.
"We have orders for Hosea Kutako International Airport, in Windhoek, and have also started with the delivery and installation of an order comprising nine lifts for the largest shopping centre in Namibia – the Maerua Mall," says Schindler project engineer William Tjale, who heads the engineering assembly of the Schindler 5500 lifts in South Africa.
However, he says the local market has also responded positively to the lift, which is engineered in Europe, has parts imported from China and is assembled in South Africa.
"Schindler 5500 lifts have been installed at Randburg Square shopping centre, Phase 1 and 2, and at our office in Springfield, Johannesburg. We are also installing the lifts at the Rosebank Mall," Tjale notes, adding that the lift has a maximum speed of 3 m/s and a travel height of 150 m.
The Schindler 5500 represents the next generation of lifts in the industry, as it provides a smooth and quiet ride, while being energy efficient and compact, compared with other lifts on the market, according to Schindler.
The lift's light-emitting diode lighting and Sleep Mode can provide significant energy savings over time and, thus, reduce the environmental footprint of a building.
"The lift also has a Power Factor One drive, which captures energy generated when it descends and stores it for use during ascent," Tjale points out.
Customisation
The ability to customise the interior of the Schindler 5500 to meet a client's speci- fications is probably its most appealing aspect, says Schindler noting that the lift caters for various applications, including hospitals, airports and even households.
Clients can choose from four deco lines – from the functional to the sophisticated. "You can also design your own interior, which can carry 50% more carload than the rated passenger load," explains the company.
Schindler 5500 is also available in glass cars for maximum visibility or can be combined with other car interiors.
Maintenance
The company states that an aspect that is often forgotten when buying a new product, be it a lift or a car, is maintenance, says Schindler, whose maintenance work is endorsed by the South African Bureau of Standards.
Schindler area service and maintenance manager Basil Eksteen tells Engineering News that maintenance comprises three aspects – safety, reliability and customer service.
"Safety is the first thing that you need to think about – it's not negotiable. Any product, especially in the service industry, needs maintenance, especially lifts, as they transport human lives," he says.
Eksteen points out that, should there be any concern about the safety of a lift, even if it is new, it will be switched off so that maintenance can be performed, regardless of the owner's approval, and switched on only when the problem has been solved.
He notes that Schindler technicians also conduct monthly quality checks on the company's installed products to ensure reliability, even though quality assurance processes are involved in manufacturing a Schindler lift to ensure that it is durable for 20 to 30 years.
"Just as cars have a ten-point check, lifts have a 20-point check. Each month, a different group of aspects, such as moving equipment and doors, are checked. The next month we cover other components, although technicians always include safety. After three months we will have covered every aspect of a lift," Eksteen says, highlighting the need to form a good working relationship with each client to ensure public safety and good service.
"We are the experts; therefore, it is our job to identify faults and advise our clients accordingly. An open partnership is needed with a client. You need to be honest enough to inform them about problems, such as a broken intercom, so that they are not blindsided by such problems in the future and your working relationship is preserved," he concludes.