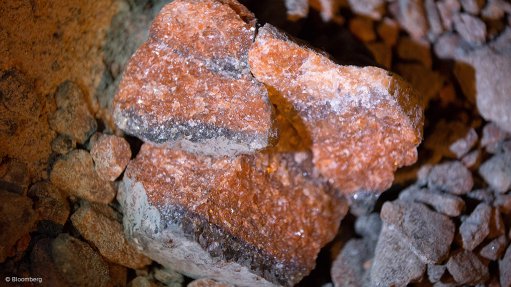 Photo by: Bloomberg
TORONTO (miningweekly.com) – Project developer Encanto Potash on Wednesday reported that the Muskowekwan First Nation (MFN) had voted with a strong majority in favour of continuing to develop the first producing potash mine on First Nation land – the MFN's reserve, located 100 km north-east of Regina, Saskatchewan.
The two project partners said that six ballots for the MFN surface designation vote had passed, including those allowing Encanto to build and operate a potash solution mine on both reserve land and pre-reserve land and to lease certain areas in support of the mine.
The project is being undertaken by First Potash Ventures, a partnership between Encanto Potash and Muskowekwan Resources, which is owned by the MFN. The project is expected to provide economic opportunities for the MFN, as well as the surrounding area, by providing training and employment opportunities during the construction and operation of the mine.
"Once again, my people have demonstrated that we are interested and greatly in favour of seeing an operating potash solution mine on our land and enjoying the associated benefits through educational advancements, increased employment opportunities and self-sourced revenue generation," MFN chief Reginald Bellerose said.
"We're very pleased with the results … and the consistently demonstrated strong support from our First Nation partners. We continue to put in the time and effort necessary to advance what we feel is soon to be the most attractive opportunity in the junior potash space and believe that these results help to pave the way towards an increased pace of development," Encanto president and CEO James Walchuck said.
A February 2013 prefeasibility study confirmed a National Instrument 43-101-compliant proven and probable potassium chloride reserve totalling 162-million tonnes grading 28%, which would support primary and secondary mining for more than 50 years at an assumed yearly extraction rate of 2.8-million tonnes.
Last year, the Canadian federal government and the MFN announced that the project had been accepted by the federal government under the First Nations Commercial and Industrial Development Act (FNCIDA), which enables the federal government to enact a provincial regulatory regime to govern commercial and industrial activities within a First Nation reserve.
While the project would become the first on-reserve potash mine in Canada, the proposed Muskowekwan project is the first in Saskatchewan to use the FNCIDA to regulate a project on reserve lands.
FNCIDA, which came into effect in 2006, aims to reproduce the provincial rules and regulations that apply to similar large-scale commercial or industrial projects off reserve, and apply them to specific on-reserve projects.
The MFN potash project was expected to generate about 1 000 construction jobs and about 500 permanent jobs once it became fully operational. In addition, the mine was expected to generate "tens of millions" in revenue royalties a year for the First Nation.